The Personal

Touch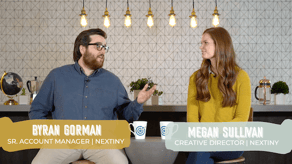 Once we help you and your team find the video path that's optimal for your processes, it's time to get more detailed. Whether you have an established brand or you're looking to grow one, video can help. With the right strategy and creative assets, your videos will have the foundation to forge ahead and become efficient and effective pieces of your content or communication strategies.
Strategy and Intent
Without either of these, your videos will likely fall flat from their goals. These will be the building blocks for any video success.

Brand Affinity
Looking to make a series of videos to compliment your company culture or sub-brands? Creating a video series may be the right option to help fuel your content strategy.

Editing n' more
With additional elements like creative assets, custom intros and outros, and music selection, your videos will not only continue to compliment your brand, but also become increasingly engaging.