Using Search Engine Optimization (SEO) to Drive Quality Traffic and Grow Your Business Online
When businesses come to us looking for help with their digital marketing efforts, SEO is one of the most common issues. We hear questions like, "Our competitors are ranking above us on Google even though our products/services are much better, why is that?" or "SEO is our #1 problem, how much does it cost to get us to the first spot on Google for our desired keyword?" While their concerns are valid, there seems to be a consistent misunderstanding about the role that SEO plays in their overall marketing strategy. It's important for businesses to understand what SEO is, how it aligns with their business goals, and how they can measure and report on the successes, to truly optimize efforts and grow their business.

Check out every episode of our inbound marketing video series, Coffee Talks!
What is Search Engine Optimization (SEO)?

SEO, which is an acronym for search engine optimization, is defined by the methods and strategies of businesses to help index their content (website pages, videos, posts, etc..) above that of competing content for a relevant search query. When marketers talk about SEO strategies, it's often in regards to Google's search engine. Search engine optimization doesn't refer only to Google, it involves optimizing for several different types of search engines.
Popular Search Engines:
Google

Bing

Yahoo (Same as Bing)

Youtube

Ask.com

DuckDuckGo

And several others…
The reason why businesses focus on optimizing their content primarily for Google is because Google holds over 90% of the search engine market share. If your content is optimized for Google it's most likely optimized for other search engines as well. Google is king and it doesn't look like that is changing anytime soon.
How does SEO work?
If someone says that they can optimize your website for search what does that really mean? SEO is not an exact science, even though many SEO companies will try to trick you into believing it is and may even try convincing you that they have all the answers (Hint: They don't). No one can promise you results on Google, they can only follow best practices and help you avoid pitfalls that negatively influence your ranking. Google holds their algorithm very close to the vest so it's important to have a basic understanding of what the best practices are in order to build a solid foundation for your website (Keeping Google happy). It's also important to create site content in a way that attracts the right visitors to your pages.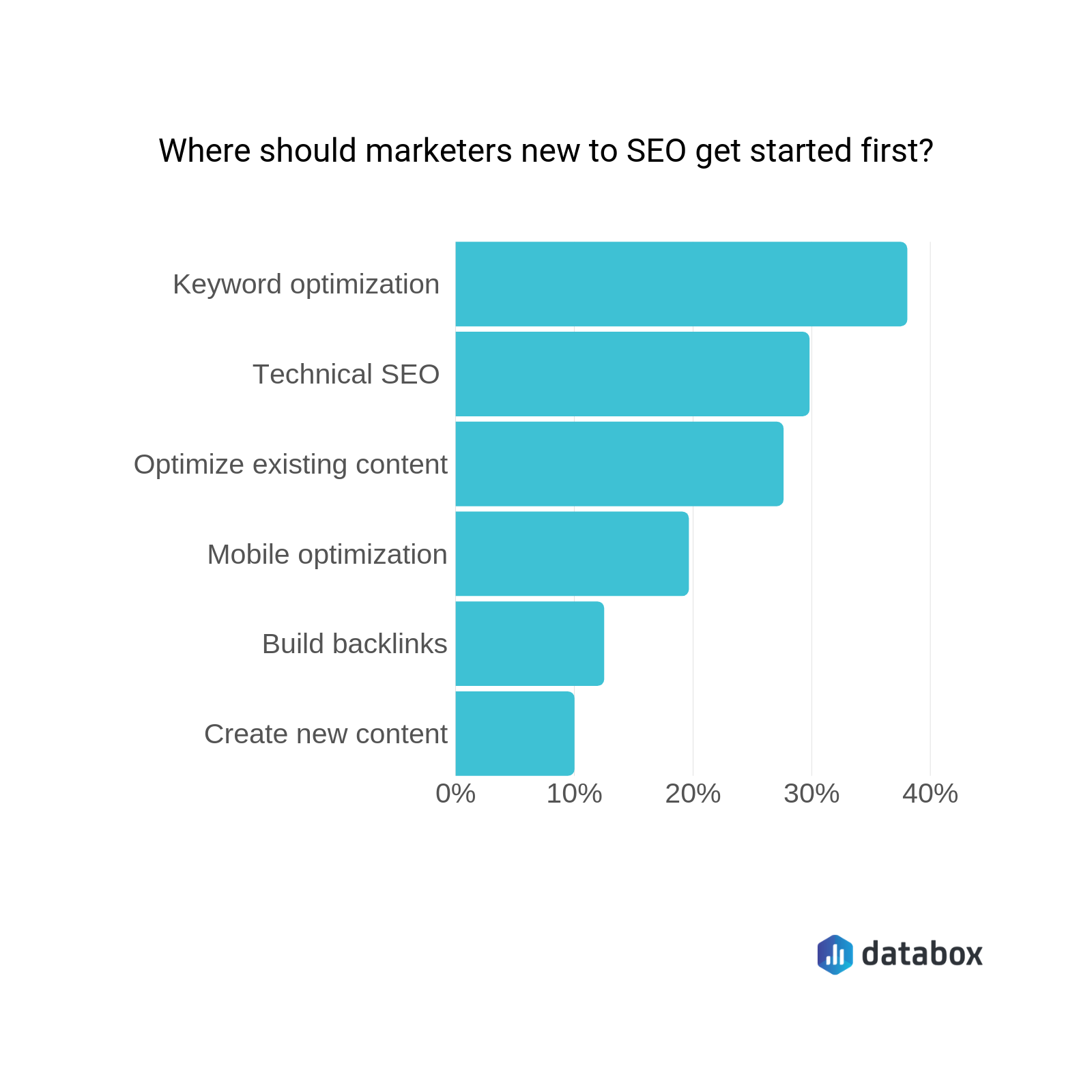 Optimizing your site content to show up on Google for relevant search inquiries just means that your content is valuable to the users searching for a solution to whatever their problem is. Google's algorithm is complex and has gone through many iterations to make sure that users have the best experience possible, finding a solution to whatever problem they're facing.


In the end, what Google values goes hand in hand with what your visitors/users want. The better user experience you provide and the more you optimize your content for people, the more Google will value your domain and assign more ranking to your related keywords. While it's amazing to reach the top spot for your desired search term, you shouldn't always measure your success by owning the top spot. There are more important metrics to gauge success, like click-through-rate (CTR) and leads generated. You'll get in a rabbit hole if you focus too heavily on vanity metrics like top position for a desired search term. Make sure you are offering as much value in the content you create and follow best SEO practices, and you'll naturally see growth that correlates directly with your overall business goals.


I've talked about SEO as a series of methods and strategies to help your site content rank, but what does that look like? Where should you begin?


Resource: If you really want a great resource for how SEO works and where you can start, read Moz's Beginners Guide to SEO.
Where to start with SEO?
It's important to align your business goals with your SEO strategies. You can generate tons of traffic to your website, but if it's not moving the needle on your most important success metrics then is it worth it? Maybe you're a business that sells construction services in Central Florida. Does it mean anything to you to have 100k monthly visitors from Toronto? How does that affect your business in Orlando? Establish what your goals are and what you're hoping to get out of your SEO strategy.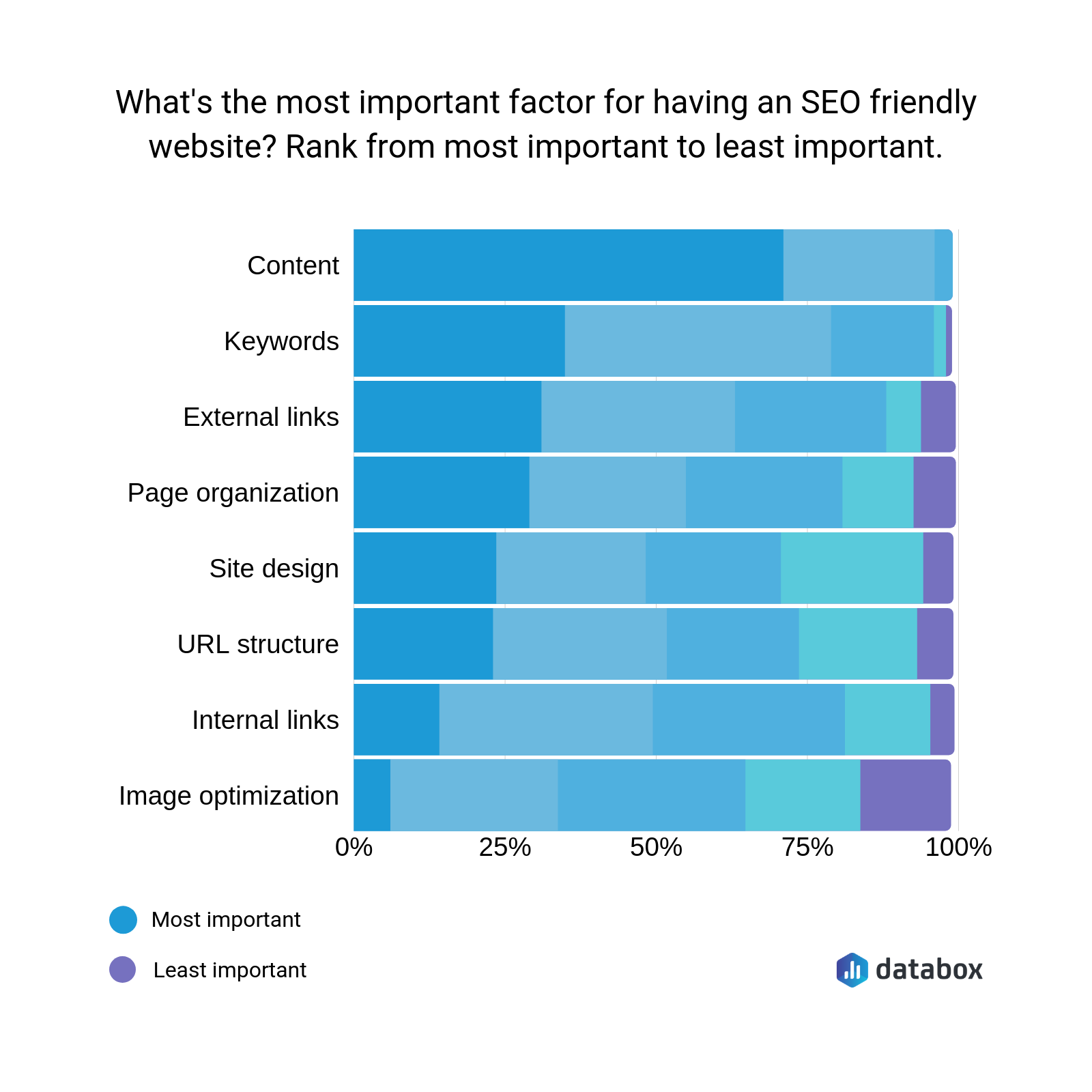 After establishing what your goals are, make sure that your website is built with a solid SEO foundation to make sure you get the most of the content you publish on it. Google crawls your website's backend code and establishes whether or not your site's structure is compliant with their index criteria. It's hard to say for sure what the criteria is because Google doesn't openly state what it is and they are always making iterations to it, but industry experts are constantly analyzing rankings of sites that rank well and creating best practices based on their observations.
*PRO TIP: You don't have to have a perfect SEO strategy, you just have to be better than your competition
What is Onsite SEO?
Onsite SEO is a process of adjusting elements on your website pages for Google's site crawlers to better identify the mapping and structure of your site, helping increase ranking and exposure of your pages on Google. We consider this the foundation of a solid SEO strategy. An excellent content strategy can fail if the onsite SEO falls short
Resource: Backlinko's 10x pillar content on on-site SEO is an amazing resource to help you get started.
HTML Elements That Will Help Improve Your Onsite SEO
Page Title
<title>page title</title>

This is one of the most important elements for onsite SEO. There are only a few features that actually show up on your page's indexed listing on Google, but the first thing that people will see is the page title, which is often attributed to why your page is showing up there in the first place. Make sure you add relevant keywords to the title that correlate with the content on that specific page. Be careful not to make your page title too long and avoid keyword stuffing, since websites are meant for people, not just Google's site crawler.
Meta-Description
<meta name="description" content="meta">

Meta descriptions are another opportunity for you to add content relevant keywords to your site's code and increase exposure of your site on Google. Do not underestimate the importance of a strong meta description. It is the element that gets the most real-estate on your Google listing. Look at meta descriptions as a tiny pitch to visitors who are searching for content that is relevant to your keywords. Pay attention to character count as well. Google recently extended their character limit for meta-descriptions to about 300 characters, but typically you'll want to try to keep your descriptions anywhere bellow 160 characters.
URLs
Your site URL is also important to optimize for search. You want to make sure that there are relevant keywords in the URL that match the pages' content. You don't want your URL to be too long as that can have an adverse affect on your Google ranking.

H1
<h1>This is your H1 tag</h1>
H1 tags helps Google's site crawler identify the content structure on your page. A sloppy header structure can cost you a featured snippet or SERP. Let's say you have a page on your website that is dedicated to Yachts, you'll want to make sure that you have a title somewhere on that page where the word "Yacht" is between the H1 tag in the code; <h1>Luxury Yacht Sales</h1>
H2
<h2>This is your H2 tag</h2> - H2 tags are another way for the site crawler to establish content structure on a particular page. The site crawler will look to the H1 tag to analyze what the page's content is about, and will read the H2 tag for supporting content that is relevant to the H1 tag subject matter. <h2>Who can help me sell my yacht?</h2>
Alt-text
Don't forget about those beautiful images on your website. Images contain metadata that site crawlers use to identify the context of an image on your page. Whenever you hover over an image on a website with your cursor, a short text description of the image will show up. This text is considered the alt-text and can help your page rank higher for certain search inquiries.
Video Elements
Using video in your content strategy helps with SEO in many ways. If you're using the right video hosting software, like Wistia, there's micro-data connected to your videos that help your content get indexed and rank on Google. As I mentioned before, the time spent on a page is a strong indication of quality content and user engagement. What better form of content to keep users engaged on a website than the use of video? Users spend 88% more time on a website that has video.
Resource: SEO and Video with Wistia
User Experience (UX) Elements That Google Takes Into Consideration
Site Map
A web site map, which you can submit to Google's search console, is a way of helping Google understand the overall structure of your site. This allows the crawler to understand the organizational mapping of your site, from the homepage, navigation menu, to the rest of your connected content. A site structure that is overly complex and leads users through a rabbit hole that is difficult to navigate out of, can have a negative effect on the way that Google ranks your site. Google does not reward content that offers their users a negative experience. Every page on your site should be 3 clicks away.
Resource: Submitting Your Sitemap to Google
Page Speed
There's nothing more frustrating than when a website page takes too long to load. I am somebody who is cursed with a limited attention span, and will often forget why I even went to a page. If the site takes too long to load the experience is lost for me. According to an article by Kissmetric, 47% of consumers expect a web page to load in 2 seconds or less. Google takes this into account when ranking their pages and will keep your site from showing up on the first page. You can test the speed of your site by using Pingdom's free website speed test.

Image Sizes
Make sure the designers leave the room for this part. Large, high resolution photos can affect the loading speed of a page and damage the user experience, hence damaging your SEO efforts. You don't have to sacrifice your design work, but don't ignore how it could be affecting your overall site performance.
Secured HTTPS
Let me direct your eyes to up to the left side of your browser. There you will see the domain name of a pretty awesome growth agency, but you will also see a lock with text that reads "https" indicating to you, the user, that you are on a secured site. This setting is not automatic and requires website owners to enable it on the hosting side. As I've mentioned above, Google does whatever it can to give their users a positive experience which includes protecting them from vulnerable sites.
Bounce Rates
A great indication of driving the right traffic to your website is in the bounce rate. Bounce rate is the percentage of visitors that navigate away from your website after viewing only one page. Google values websites that are offering the most value to a relevant audience. If people are coming to a website from their search inquiry and leaving right away, that could mean one of two things. Either the visitor came and got everything they needed from your page, or they abandoned your content because it was of no value to them. Google takes many things into consideration and typically its best practice to make sure you're keeping your bounce rates low.
Micro Data
You may have organized everything on your website perfectly and feel good about the on-site elements you've added, but you never see your content populating in what Google calls the "featured snippet." Featured snippets are unique display boxes that shows up at the top or along the right side of search queries. The featured snippet could be a quote, an answer to a question, a video, and much more. Although you organized everything on your website following best practices, there are still things that you can do to help Google better understand the context of your content structure.
By making sure that you establish and implement these onsite SEO elements to your new website, you'll save yourself hours of heartache. It is much easier to do it right the first time than having to go back and fix years of published content.
Three Major Factors that Influence a Google Search
Relevance
Popularity
Location
Relevance
This is an extremely important factor to consider for a business like ours where technology evolves and strategies must adapt quickly. An article written in 2010 about best SEO practices may no longer be relevant to the intention of my search inquiry. Google will rank pages higher for searches that are most relevant to the user's intent.
*PRO TIP: One way to stay relevant is to update a popular blog post or website page with updated information or data. Reposting with updated information will help increase your relevancy and complement the popularity of a page significantly.
Popularity
Unfortunately, Google is a popularity contest. As much as this hurts the high school version of me, it's a lot easier to handle under the context of Google indexing valuable content. The more people who land on your website pages the more likely it is that the information will be valuable to the user. Site popularity is great, but if those visitors add nothing to your bottom line then maybe it is time to start analyzing why the traffic is high and where it's coming from. This insight could become an opportunity to explore a new area of your business or highlight an issue in your site's content.
*PRO TIP: Use your Google analytics dashboard to explore the landing pages that are attracting the most visitors and find ways to replicate and build off of that success.
Location
Lets say you are looking for a company that can help you install a boat lift on your property. You might start by going to Google and searching, "marine contractors Florida." You will probably see a few paid ads, a map of local contractors, and then organic listings that are all relevant to the location of where you currently are. These results show up because Google uses the searcher's location as a factor in the type of content it will display to users.
*PRO TIP: Set up a Google business directory right away so that anyone searching for your business will see your listing in the featured snippet. Populate that directory with all of the correct contact information, images, and location. Don't take any real-estate on Google for granted. If they are giving you that free exposure then set up everything you can to take full advantage of it.
The Importance of Local SEO
For most businesses that we deal with, local SEO is one of the most important factors for quality traffic to the site. If the market your business is in is solely a local market, then take full advantage of geographic keywords in your site pages and blog posts. It's much simpler for content to rank high on a local search than it would be to rank on a national or international search. Even if your business is not just a local business, there are a lot of advantages to having a strong local presence on Google. The best way to help your local SEO is to have a robust citation strategy where you post your information in a consistent way on relevant directories around the internet.
Inbound Marketing vs. SEO
I've seen articles that try to pin Inbound and SEO methods against one another. These are not competing methods, nor should they be. A great SEO strategy can fuel your inbound marketing efforts, and vice versa. Inbound is all about creating valuable content for your ideal audience to empower and educate them, building authority and trust. Google seems to be on a similar path with many of their updates. They are continuing to show that they want to provide their users with a valuable experience. Google wants to rank relevant and resourceful content for every search inquiry. Inbound encourages marketers to create valuable and educational content, where Google is rewarding marketers who do just that. The relationship between inbound marketing and SEO is symbiotic and crucial for a successful digital marketing strategy.
Resource: Check out our client case study about Inbound and SEO.
Google AdWords, PPC
The digital real-estate at the top of Google's first page search inquiry is extremely valuable, especially for high volume, relevant keywords for your business. Organically reaching the top spot on Google for a desired search term often requires a lot of research and time. There are no guarantees that you'll surpass your competitors' content at the top even if you do everything the right way. One way to guarantee you reach the top of Google is to pay for it. This is considered Pay-Per-Click advertising. This can be very costly if you are trying to reach the top spot for a high search volume keyword/topic. Google Adwords is a strategy that many businesses use to attract high volumes of traffic to their site, but it's important to make sure you think through the entire user experience of the pages that you are directing your traffic towards. Ask yourself, what is the goal of the traffic I am generating through paid advertising? If you are looking to generate new leads, then your pages should be optimized for conversion, not just traffic. Make the most of your ad spend.
SEO Tools (Paid and Free)
SEO should not be a blind shot in the dark. It's important to make sure that you are equipped with the right tools and knowledge to optimize your success. There are so many tools, both free and paid, that can help you with many aspects of your SEO strategy.
Google Search Console
This is where you should start. Google Search Console may be the single most important software for marketers tracking their SEO efforts. Google doesn't openly offer up their search data, but there's a ton of insight to be gained from the search console about the types of keywords/topics that people are searching for when your site shows up on their inquiry. You can measure impressions (number of people that saw your website from a search inquiry) and clicks (number of people who selected your listing after a search inquiry).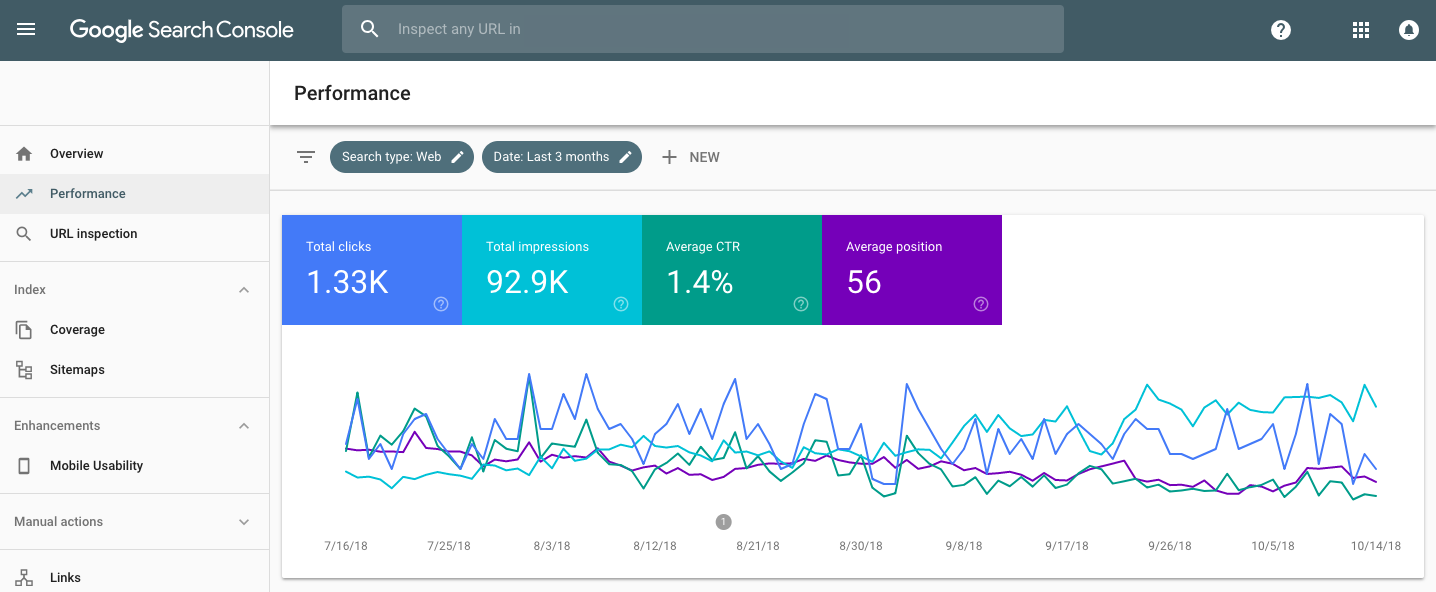 Google Trends
Google Trends is a free tool that gives you insight into what real people are searching for. You can use this tool to find trends around the keywords that you are looking to rank for, as well as event spikes to understand if your search inquiry is affected by any specific events or seasons. It's a great tool to use for targeted campaigns in certain locations as well as national trends around a keyword. You can compare keywords against other keywords to optimize your campaigns for quality traffic. My advice for anyone trying to do SEO is to use this tool as much as you can.

Google Analytics
What better tool to use to track your SEO success than a tool created by the platform we are trying to rank our content on? Google Analytics gives us so much insight into our website activity. With Google Analytics, you can analyze organic search traffic, measure the quality of your traffic by assigning a dollar value to your visits, and create custom dashboards that helps you visualize the content in a way that makes the most impact for you. You can also integrate your search console with Google Analytics, offering more insight into your organic campaigns. This is a very comprehensive tool that allows you a range of capabilities, from surface level analysis to a deep dive into specific page analytics. You can use Databox to graphically show reports from these tools.

Resource: Learn more about how you can use Google Analytics to track and make data-driven decisions on your website here.
Moz
Moz is an advanced SEO tool where you can execute keyword research, evaluate site performance, and measure your success against that of your competition. By seeing what keywords your competitors are ranking for, you can capitalize on new topic opportunities for content to help rank above that of your competition.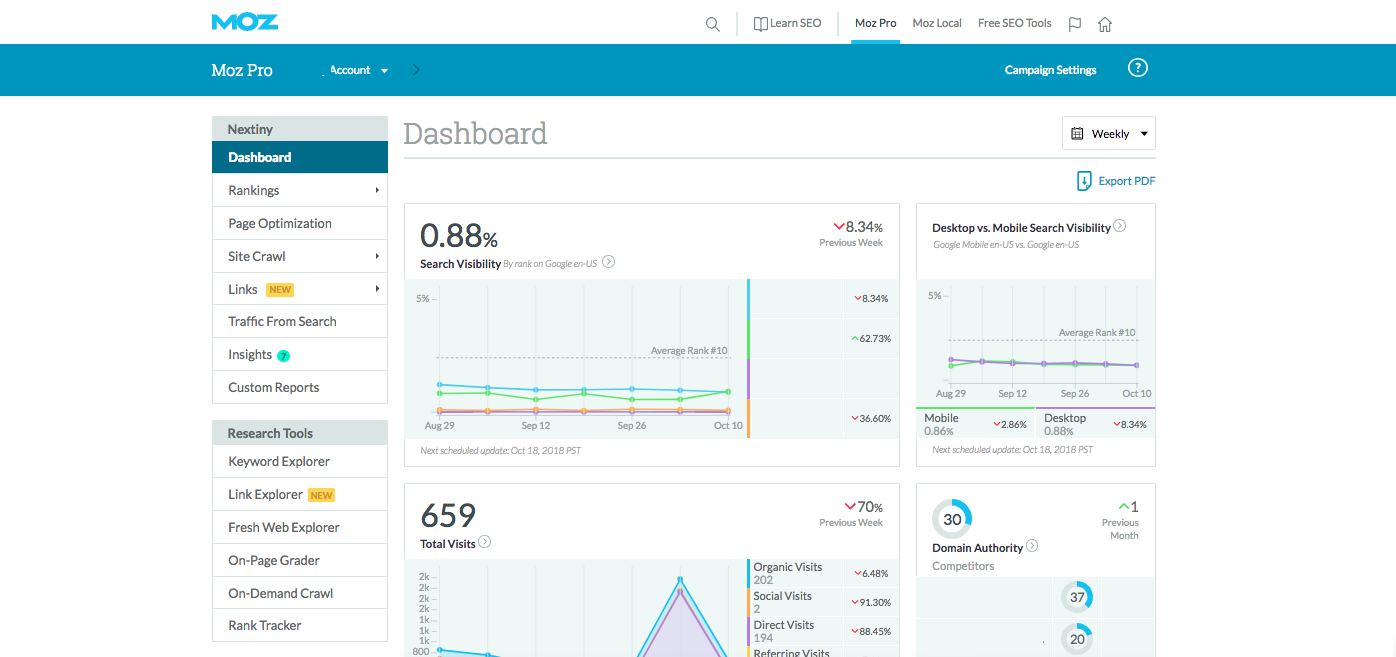 Resource: https://moz.com/
Moz Local
Moz Local is a powerful local SEO tool that helps businesses push their NAP (Names, Address, Phone) data into local directories. Something that most local businesses deal with is inconsistencies in their directory listings. With Moz local, you input your information one time and Moz local automatically creates new listing opportunities for you. There are situations where Moz cannot change listing information (like on Google, Facebook, Yellowpages, etc..), but monitors that information and gives you an actionable plan so that you can fix those issues and help your local SEO.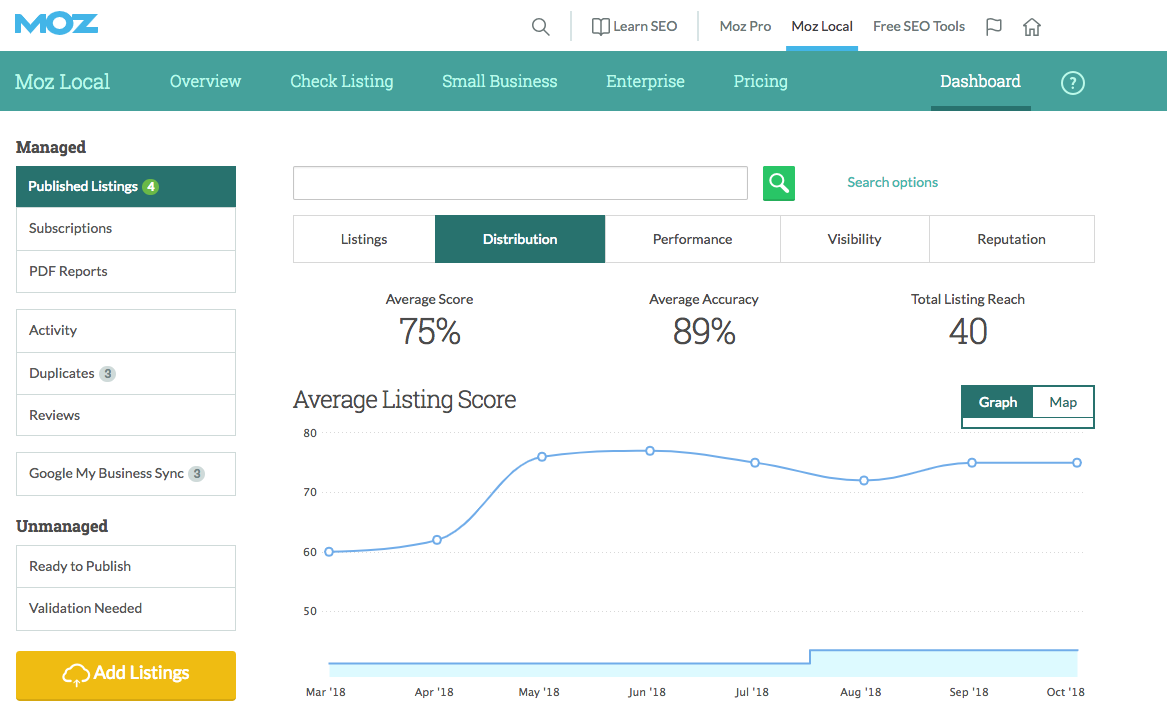 HubSpot Page Performance
The HubSpot page performance tool is a way to monitor your on-site SEO for every page in the HubSpot CMS. This tool helps you see where there are missing onsite elements (page titles, meta-descriptions, alt-text, etc..), making it very simple for you to go in and fix the issues.
HubSpot Website Grader
Website grader is a tool that we use to evaluate the surface level performance of our clients' websites. This tool can expose major issues related to your website's structure, but will not give you a detailed report of exactly where the issues are. It's a nice way to quickly audit your site performance, but we would not recommend relying on this tool for all of your on-site SEO monitoring.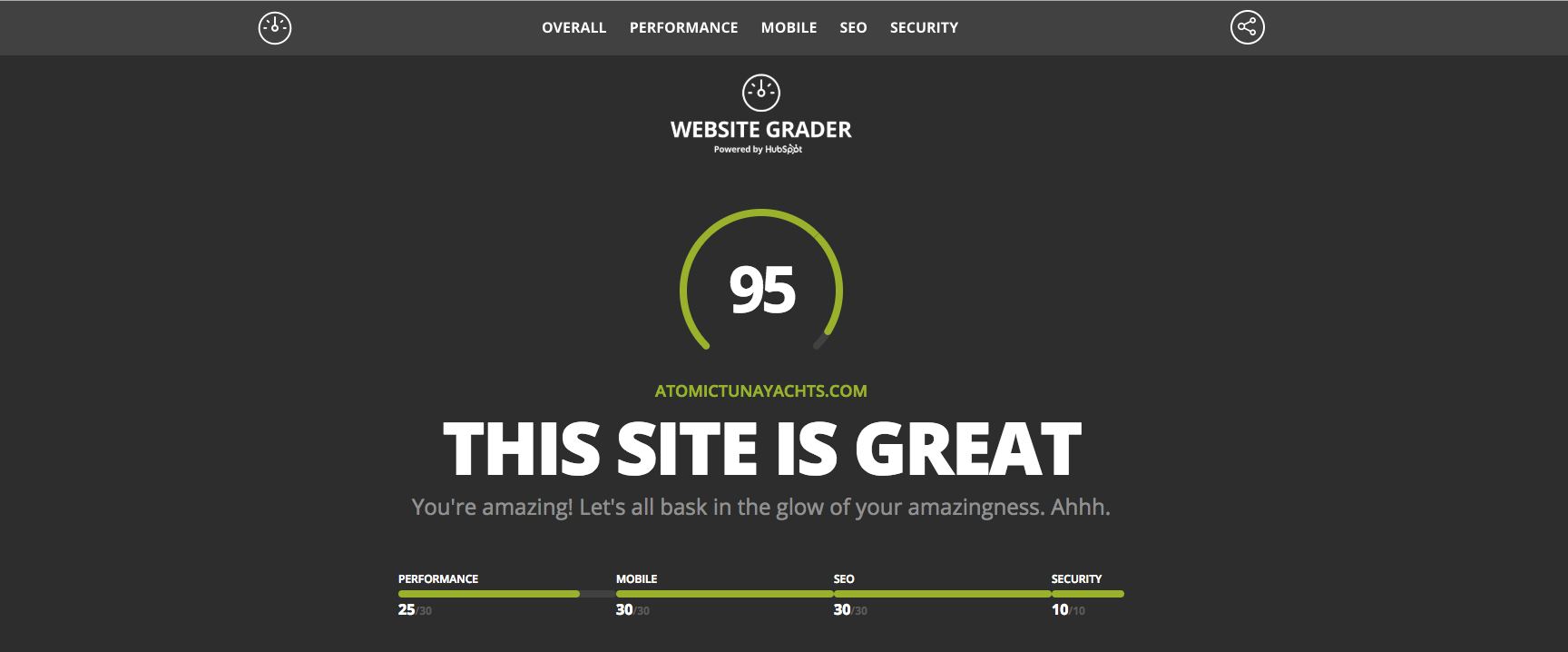 Keywords Everywhere
Keywords Everywhere helps you see certain search metrics per search inquiry. If you download the chrome extension and activate the tool, you get access to relevant data right from your Google search inquiry.

Answer the Public
Google is going away from focusing on keywords to focusing on more on searcher's intent. Answer the Public gives you insight on the types of questions people are asking related to a specific keyword topic. This information helps us decide the type of questions people are asking in relation to the search topic. Any strong content strategy should be utilizing a free tool like this.
Databox
Databox is an advanced reporting tool that helps businesses align their software analytics onto one platform. For any advanced SEO strategy, where you're utilizing many softwares, this tool is extremely beneficial. Let's say you're using HubSpot, Moz, Google Analytics, and Google Search Console to track your SEO efforts. Databox allows you to pull all of these sources into one platform where you can create custom data walls with a combination of all of these sources.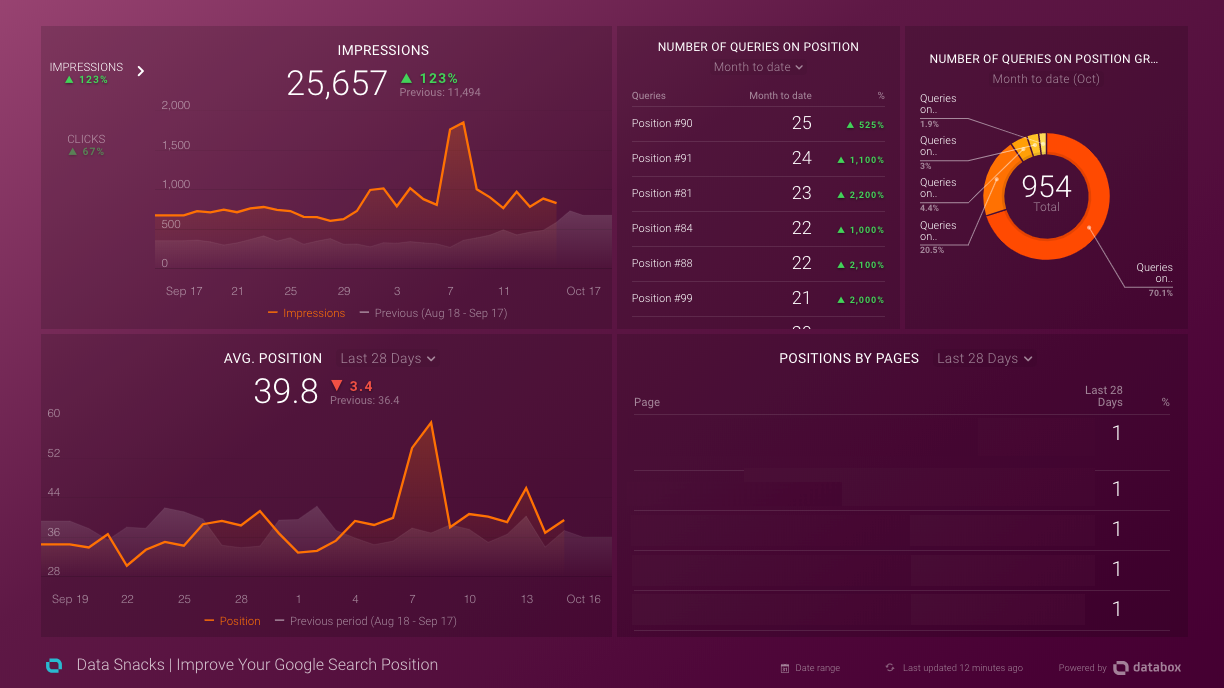 Lucky Orange
Lucky Orange is not specifically an SEO tool, but if Google values user experience, you should understand how visitors are engaging with the content on your website. Lucky Orange is a heat map and site recording tool that allows you to understand the behaviors of real users on your website. Understanding this data will shine light on site blindspots and offer opportunities for you to make iterations to your site content, keeping users engaged with your content, ultimately helping your SEO.
Other SEO tools:
Ahrefs

SEM Rush

SpyFu

KWFinder

Answer the Public

Screaming Frog
SEO Analytics - What's Important?
So, you did your research, developed a sound SEO strategy, fixed your technical onsite SEO issues, and invested in the right SEO softwares and tools. Now what? Like all marketing and sales efforts, it's important to make sure that you're tracking the right metrics and making data-driven decisions that impact your overall growth goals. That could mean different things to different people though. For some, it's important to drive traffic to a purchase page where they want to convert their site traffic directly into customers. For others, they may want to just track visitor time spent on page to make sure that their content is offering the right value to the right people. Whatever the metrics are, make sure that you are analyzing the data that makes the biggest impact on your overall goals.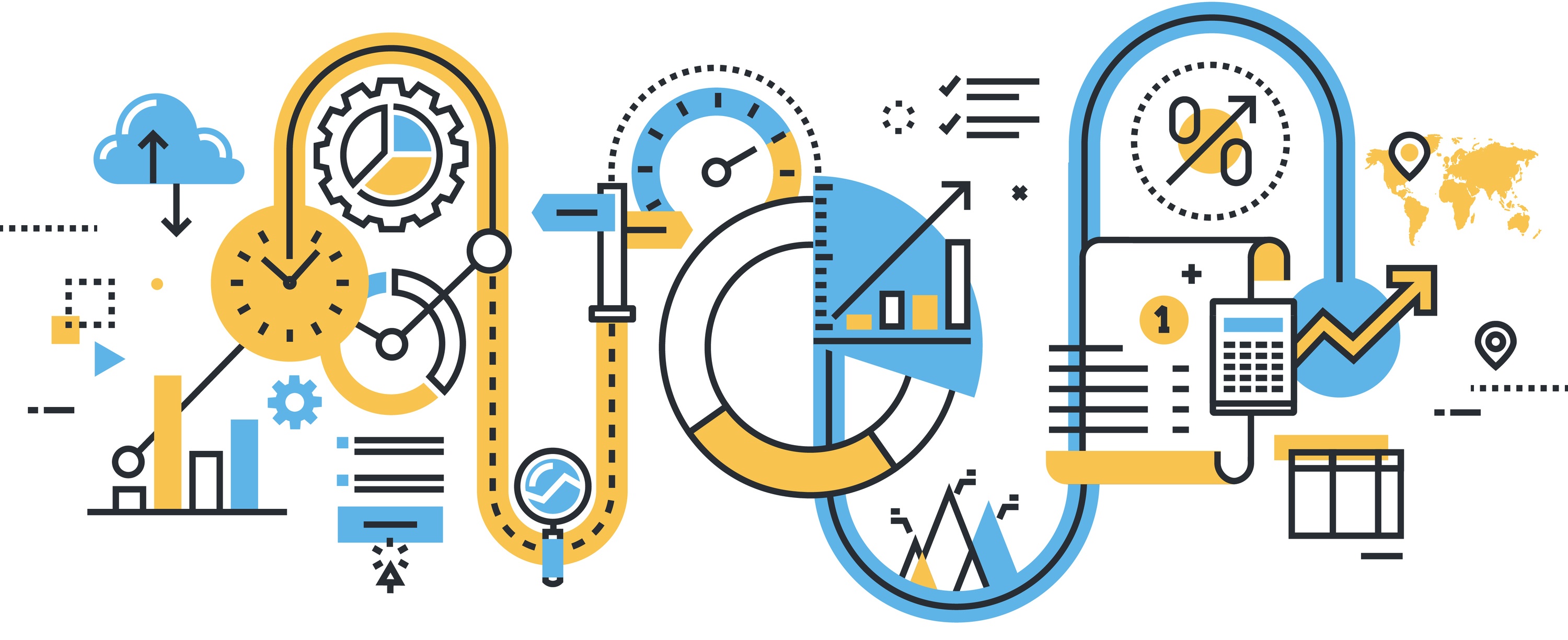 Important Metrics:
SEO and Your Content Strategy
How do you decide what your next piece of content should be and does SEO play a role in your decision? We shouldn't be relying solely on keyword research when developing value offers and blog content. Just because there's a keyword that has a high search volume and low difficulty of ranking, doesn't mean that you need to drive your entire content strategy behind it. The question you should be asking is "What does that traffic mean to your overall goals?"
Check out every episode of our inbound marketing video series, Coffee Talks!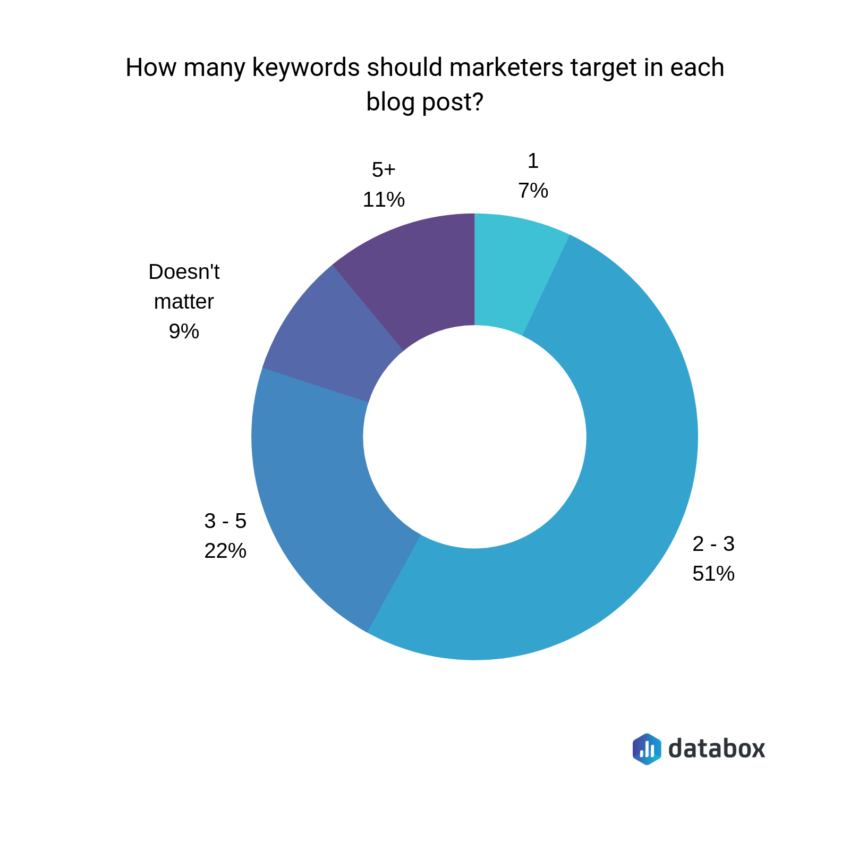 If you're a marketer at an inbound agency and notice that a lot of people are searching for "eCommerce Content Creation" but you struggle to find supporting content for that search inquiry, what should you do? Evaluate the true intent of visitors that come from that search and where they fit as a potential customer for your business. Maybe attracting eCommerce businesses is an opportunity your agency hasn't explored yet and this data has helped push you in that direction. That is awesome! Maybe you realize that e-commerce businesses are not a good fit for your agency and that this SEO opportunity would just be wasted traffic for you. That is also great! Creating content should add value to your ideal buyer's journey and your SEO strategy should be aligned with that goal.
Pillar Content and Topic Cluster Strategies
Internal linking architecture has become increasingly more important for domain and topic authority in the last few years. In 2016, Google released their Rankbrain update which prioritized SERPs to searcher's intent rather than just keywords. This update is affecting the type of content that is ending up on the first page of Google and marketers are taking notice. The topic cluster strategy is a new way of organizing site content to prove topic authority and boost overall cluster authority, rather than just individual page authority. Here's what the new topic cluster model looks like: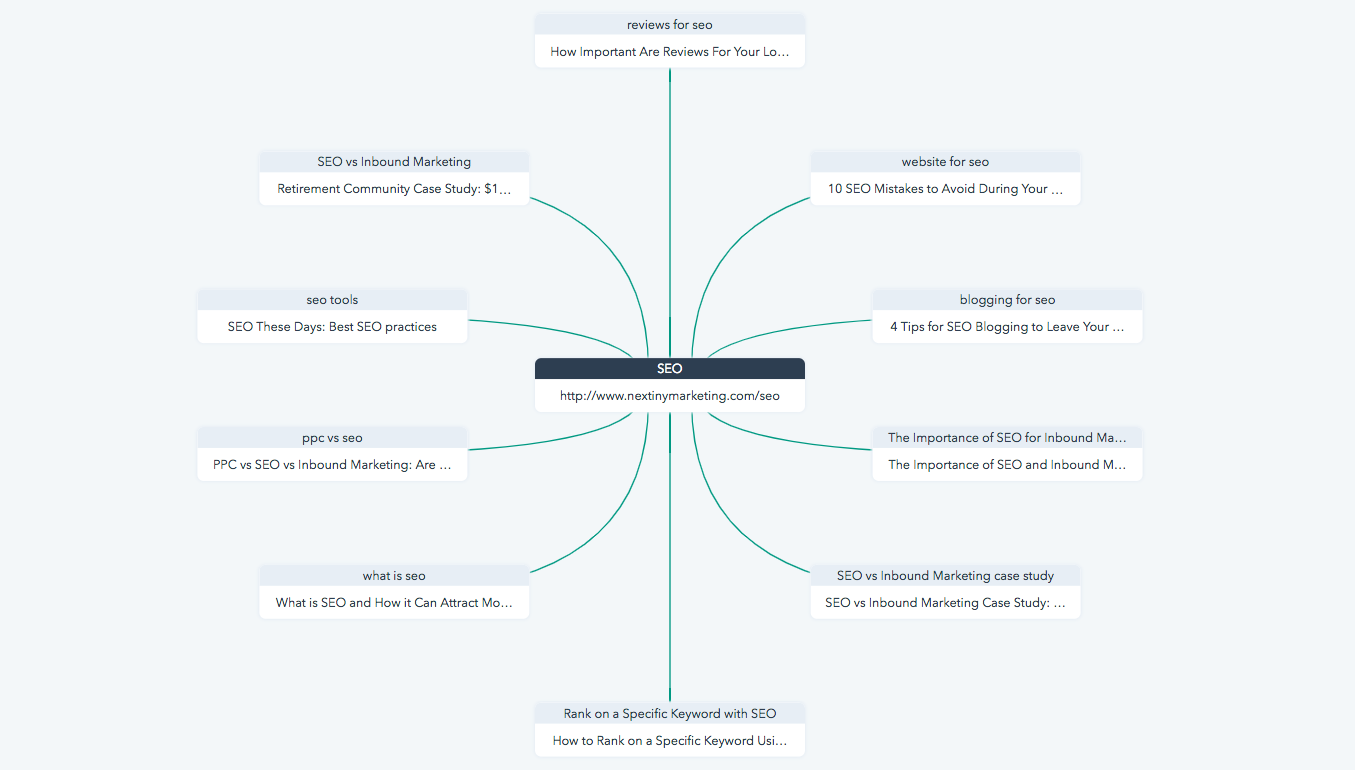 It's no longer beneficial for content creators to write a ton of redundant articles that stuff keywords and add zero value. Content that is organized in the topic cluster model will help content creators reduce content redundancy, lessen the output of short and valueless content, and focus more on creating content that converts visitors into leads for your business. A topic cluster is supported by a pillar page that is connected, through hyperlinks, to a series of relevant content on your website. A Pillar Page is a long, comprehensive piece of content that broadly covers a single topic. The goal of pillar content is to attract high volumes of traffic from a keyword topic that your business has an authority on to one page. Since the goal of this page is to drive traffic, you should focus on optimizing the site page for conversion by adding CTAs and blog subscription forms.
Building Topic Authority Through Backlinks
What does it mean to be an authority on a certain topic? While your content may be extremely valuable and accurate, others within your industry need to believe that as well. One way to increase your domain authority is to have backlinks from other industry leading websites pointing back to yours. This tells Google that not only are you publishing amazing content, but that people with authority in your industry also believe that your content is valuable.
How exactly do you get backlinks from other websites to reference your content and credit it with hyperlinks? Reach out to the people in your industry that you've built relationships with, like past customers or suppliers, and ask them for a backlink to a relevant piece of content on your site. For example, let's say you're a marine construction company specializing in large dock construction for marinas. Write an article about the project, share the article with your client and ask them if they could promote the article by linking to it from their website. This will help validate your topic authority and increase exposure to relevant content on your site. If you're taking the time to promote your content on social media or through email campaigns, you should also add sharing your content with industry leaders and asking them for a credited backlink from their websites. Leverage the contacts that you've made from years of building industry authority to help build your domain authority.
*PRO TIP: Don't act desperate and beg for backlinks. The more you focus on providing industry value, not self-promotion, the healthier your backlinks will be.
6 Actionable SEO Takeaways
Don't underestimate your old, outdated website. Optimize your site to take advantage of the authority you do have.


Fix onsite SEO issues to make sure you're not hurting your awesome content.


Think value add first and then optimize content for search.


Focus on measuring the efforts that influence your overall business goals.


Establish and maintain your local presence with Google My Business.


Build real relationships with people in your industry and leverage that to help gain industry authority.