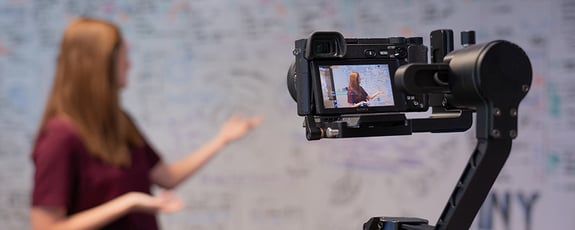 Over 100 Video Ideas to Help You Grow Your Business and Build Your Brand

Videos Ideas for Brand Affinity, Lead Generation & More
Download Our Video Marketing Guide


There are a seemingly infinite amount of videos you could make for your business. So many we don't blame you if it's overwhelming. Luckily, we've put together over 100 video ideas to help you grow your business and build your brand. No matter the goal—whether it be marketing, customer service, or social media—there's a video idea here to help you meet your goals.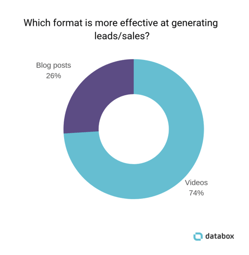 ---
Video Ideas for Website Pages
Videos can be a complementary form of content for any of your website pages. Audit your pages and look for opportunities where a video might help better carry the message or lead to a conversion, depending on what the page goals are.
"87% of video marketers say video has increased traffic to their website."


Source: Wyzowl
For more inspiration review our Video Gallery. Also review our Video Series, Coffee Talks, Martech Masters, and NEXTstudio.
1. Homepage Video
If you're trying to create videos for your website, one of the most important videos you can make is one that lives on your homepage and that promotes your brand and your mission statement.
This video is front and center and should contain all the expectations you want to set for viewers who are learning about your company or product. It's your first impression for many so it should encapsulate your brand in a few minutes with the styling, tone, and content.
2. Landing Page
Created a standalone page for your audience? Instead of sending your visitors to a page covered in text and a few static graphics, why not give them a video to conveniently and effectively push the message or information forward? Consider how the video's call to action at the end might be able to enhance the conversion for this page.
3. Vlog
Have an announcement you want to make to your clients or visitors? Or perhaps you have an ongoing project for these visitors to follow along with? Creating Video Blogs or "Vlogs" is a great way to make engaging, personal content while also keeping production minimal.
4. Thank You Video
Thank you videos can be a friendly addition to pages such as your contact page. This can be a short, sweet message thanking viewers for visiting your website and mentioning how else they can get in touch with you.
5 Creative Ways B2B Brands Can Leverage the Power of Video
5. Unsubscribe Videos
Although you typically want to explore ways videos can help convert visitors on your website pages, sometimes they can be effective in leaving a good lasting impression. Including a video on your "Unsubscribe" page might entice the viewer to change their mind or at the very least provide a lasting impression that might have them return down the road.
An example of an email unsubscribe video from HubSpot
6. Resubscribe Video
All right, maybe this doesn't sound as creative after reading that last video idea, but it can't hurt to add a short video on that resubscribe page as well!
7. 404 Page Video
One page that is widely overlooked is the 404 page. There aren't any expectations for this page other than knowing whatever you were originally looking for is no longer available, so imagine a viewer's surprise when they find a funny, short video from you and your team to inspire them to keep exploring.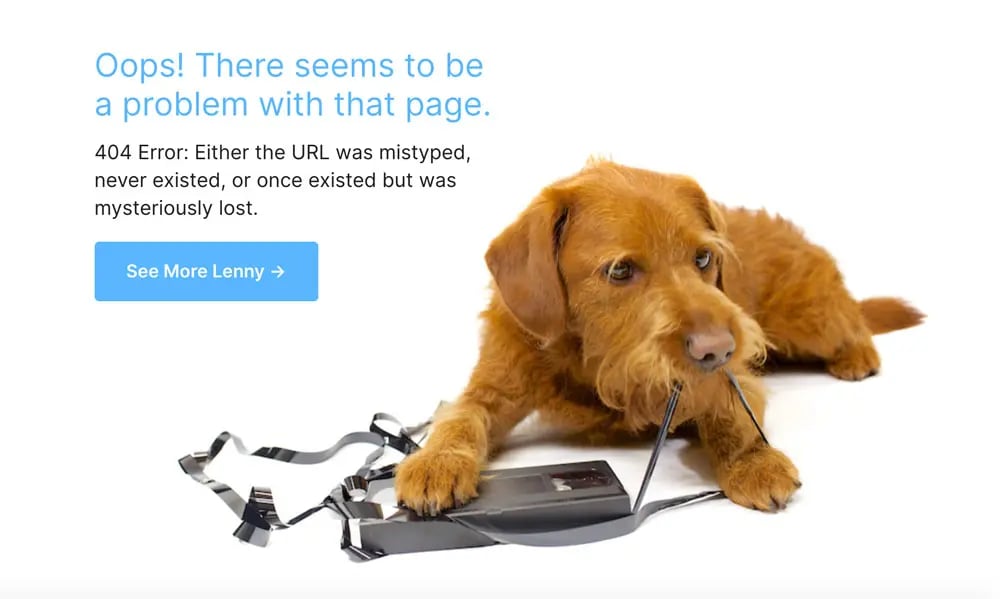 Example of Wistia's 404 page with a whole gallery of Lenny's videos (their dog)
8. Other Languages/Multi-Language
Do you have a diverse marketing demographic? Consider creating videos in more than one language. Although subtitles can resolve this in most cases, creating a video in your audiences' native languages will create a stronger affinity with them.


9. Highlight Reel
Has your company been creating a lot of client videos? If you're selling video services, a great video to show off your company's quality is to create a highlight reel for your video services page to quickly show visitors your style and capabilities.
10. About us
Gather your team and create a video that showcases who you are and what you're capable of. This is a great opportunity to show off your team's personality, work ethic, and the company's culture while inviting viewers to contact you for further information.
---
Marketing and Sales Video Ideas
Website pages can serve as a guide to decide what your first videos should be, but you'll also want to explore all of the opportunities that your marketing and sales goals have to create new video content.
84% of people say that they've been convinced to buy a product or service by watching a brand's video. (Wyzowl, 2020)
11. Email Signature Videos
An email signature video can really set you apart from the competition by placing the right foot in the door when it comes to first impressions. Have each team member introduce themselves, explain their role, a fun fact about themselves, and the best way to contact them. Short, efficient, and it'll get your emails to stand out like never before.
12. Sales Outreach Introduction
Video can be a great tool to get your message in front of the right prospects. Introduce yourself with a quick video that shows how you can provide value for that particular client and it might just spark the right conversations to move them through your sales funnel!
6 Sales Touch Points That Can Be Improved with Video - Wistia Blog
13. Video Voicemail
Initial sales conversations can sometimes turn flat with routine calls and "sales touches." The next time you're about to leave a voicemail to catch up with your prospect, go ahead and leave the voicemail but then follow that up with a video message via email to add a truly personal touch.
14. Sales Close—Team Introduction
Congrats! You closed that deal! But this doesn't mean video can't continue nurturing your new client. Create a video with your team to introduce all the players who will be involved in this new account.
15. Testimonial Video
Get your favorite customers on camera and show prospects a genuine side to the customer experience your company provides! A testimonial video can expedite or alleviate hesitation in the sales process and move you close to your ideal clients.
16. Product Description
Nobody knows your product as well as you do—make a video that explains what it's for, who it serves, and how to get it! This is also a great video to promote through other platforms like social media to get the word out about your product.
17. Create video to support written content
Blogging is an effective tool to help your SEO and content goals and video can help take both to the next level. Complement your content strategy with related videos to help make your written content even more engaging. Here's a great article by Wistia, explaining how to DIY a Lighting Kit with a lot of supporting video content. We use a lot of supporting videos to expand on blog articles and make them more engaging. Check out our "What's in our camera bag" article to see how we use it.
18. Video Meetings—Zoom
Zoom is a popular video conferencing tool to connect with your team, clients, and more. When using this software, be sure to connect via video to create a more personal experience.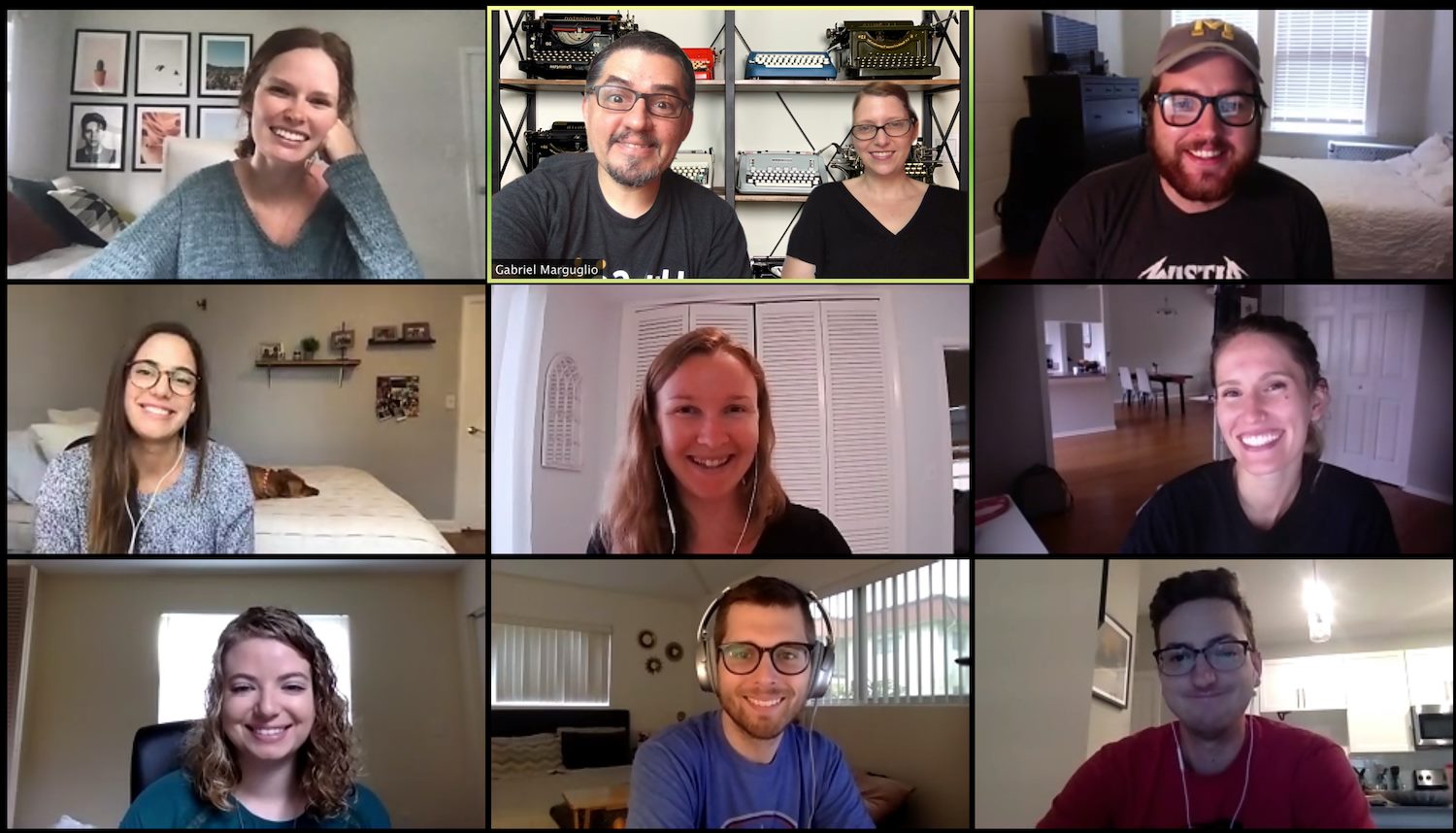 19. Event Recap Videos
Whether in person or remote, record footage from your event and make a recap video for those who missed it or to promote your next event!
20. Event Promotion
Create some extra buzz for your upcoming event by making a brief video explaining what the event will be about and mention any specific speakers or perks like lunch or coffee.
21. Webinars
Looking for a remote alternative for your event or a way to reach the masses in a cost-effective way? Consider hosting a webinar for a virtual experience that participants can access from the comfort of their home!
22. Sales Team FAQ
Does your sales team receive the same questions over and over? Make a handful of videos in lieu of the classic FAQs page content to remove any friction from the sales process.
23. Explainer Videos
Explainer videos can help break down any complex features of your service or product offerings. Find streamlined ways to explain them in detail and use video footage of them in use to add more clarity.
24. Property Overview
If you have some interesting office specs, or perhaps your clients do, a property overview video can help build excitement around the location and its offerings.
25. Review Video
Depending on what service or product you provide, explore the opportunity of clients creating a review video to share their experience to others who might be looking for the same solutions.
26. Before and After
Have a project that underwent a huge transformation? Before and After videos are highly engaging and set up the expectation to see something completely different by the end.
27. Sales Presentations
Video can take your sales presentation to the next level by not only providing more engaging visuals but also serving as a resource prospects can watch later if applicable.
28. Videos for Emails
Before you send that next email, give it a quick run-through and explore any opportunities to either record an original video to include OR add an existing video that might make it that much more engaging.
29. Contract Walkthrough
Although contracts are essential to the closing of any deal, that doesn't mean the contract experience has to always be the same. Make a video walking your soon-to-be client through any important points or places that could benefit from an extra explanation.
30. Re-Edit & Re-Purpose
Check out your older videos—you might find some opportunities to make new content either by simply re-editing or reusing a classic.
31. 360 Videos
Depending on your business or your clients, you might benefit from creating a 360-degree video to showcase a property, event, or location.
32. Workflow Videos/Sequence
Take a closer look at your existing workflows. Could each sequence get a complimentary video to add to the experience?
33. A Day in the Life
A day in the life video can be a great way to show some of your company culture, depending on who you're covering. This can be an effective way to show existing or prospective clients exactly who they'll be working with!
34. Animation/Voice Over
Animated videos bring a fresh and visually appealing way to convey both simple or complex messages. There are also a lot of viable animation software available online such as Vyond or InVideo.
---
Video Ideas for HR and Internal Communications
Videos don't have to always be promoting products or services, but can also be used internally for training, reporting, onboarding, and more.
35. Employee Onboarding Video
Congrats on the new team member! Make them feel right at home with a video giving the low-down on the scope of their position and all the key players or factors involved.
36. How-to Videos
How-to videos can be a great way to expedite some of the training process by giving a clear explanation of something an employee might be using or working with.
The Best Way to Shoot a Video by Yourself - Wistia Blog
37. Reporting Videos
Consider creating a report video the next time you're looking to explain a recent analysis to the team. This makes a sometimes mundane process much more engaging.
38. Employee Training Videos
Training videos can be an incredible asset to add to your process. It not only saves time from having to re-explain certain things, but it also provides a physical resource for your new employees and one they can constantly go back to if need be. These types of videos can also be useful to build an onboarding process for new employees.
39. Culture Video
This is where things can get more fun. A culture video is a creative way to show off who your company really is. Think of it as a personality video for your team and don't be afraid to think outside of the box!
40. Internal Communication
Before you send a message to your colleagues, think about adding a video into the mix whether it be to make the message more engaging or just to send it with a personal touch.
41. Process Video
A video can help provide clarity to any given process by explaining all of the important factors or people involved. Consider creating a small collection of videos, one per process, as a resource within your onboarding assets.
42. Resume Videos
Resume videos can be a great way to either submit your credentials or to respond to someone else's with detailed feedback.
43. Job Description Videos
Depending on where you're posting your current job opportunities, adding a video can really set your listing apart from the others!
Galileo shows how to use video as a job description
44. Announcement
Have an internal announcement to make? Hit record and send it as a video to everyone in your company via email to get them caught up.
---
Video Ideas for Customer Service
You can use videos to help your customers in many ways from how-to videos to helping onboard new customers by introducing your business, your team, and the processes involved.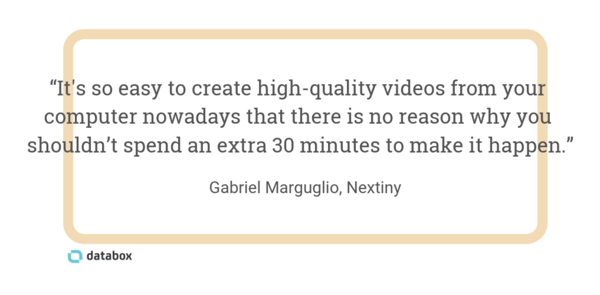 95% of video marketers said they felt they'd increased understanding of their product or service using video. (Wyzowl, 2020)
45. Client Onboarding Video
As mentioned above about adding a new team member, the same can be said for a new client! Kick things off on the right foot by creating a video to welcome them to the partnership.
46. How-to Videos for Clients
Depending on client needs, videos can be an excellent resource to help show them the ropes with anything that might be needed to lessen or improve the client's workload.
47. Support
When sending out a support message, add a video to make a more personal connection. It's a simple way to show your clients you care.
48. Client Training
Just like with employee training videos, client training videos can be an efficient way to expedite your clients' onboarding while also providing them with a great resource to return to.
49. Knowledge Base
Creating some knowledge base video content can be the start to an incredibly useful set of videos to share with your customers. Assets like this can set you apart from the competition as thought leaders who are being proactive in your industry.
50. Software Walkthrough
Software always creates a perfect need for videos. Walking a customer through the software use cases and interface is undoubtedly valuable to remove any obstacles while they explore the new tool.
51. Office Tour
Create an office tour video to create a stronger connection between you and your customer. Giving them the chance to see your everyday environment is just another way they can get to know you and your team a bit more.
52. Share your screen
One of the simplest kinds of videos you can make is a screen share video. This can be a great tool to use to communicate clearly on something that might be difficult to explain through a simple message. We use Soapbox by Wistia to create all our screen share videos.
Soapbox - A Free Webcam and Screen Recorder for Chrome
53. Video Conferencing
Video conferencing is really beneficial if you can't meet with your client in person. Software like Zoom or Skype lets you communicate through video seamlessly.
54. Acts of Gratitude
Send a video the next time you want to share a genuine thank you to your client instead of just sending it via text in an email.
55. Happy Birthday Videos
Gather your team and sing (one of the many renditions) of happy birthday to your special client via video to make them feel extra special that day.
56. Client anniversary
The celebration doesn't have to stop at birthdays. Jot down your client anniversaries or milestones and start making fun, short videos to commemorate the accomplishments you've been able to achieve together.
57. Team Member Videos
Showcase the unique talents, personalities, and jobs of your individual team members with your clients, customers, and anyone who comes to your site. These little videos are a quick way to build brand affinity and help people connect with your team.
---
Video Ideas for Social Promotions and SEO
Social media has become a very powerful tool for promoting your business and your content. These videos are usually short, easy to make, and can have a big impact on driving traffic to your site.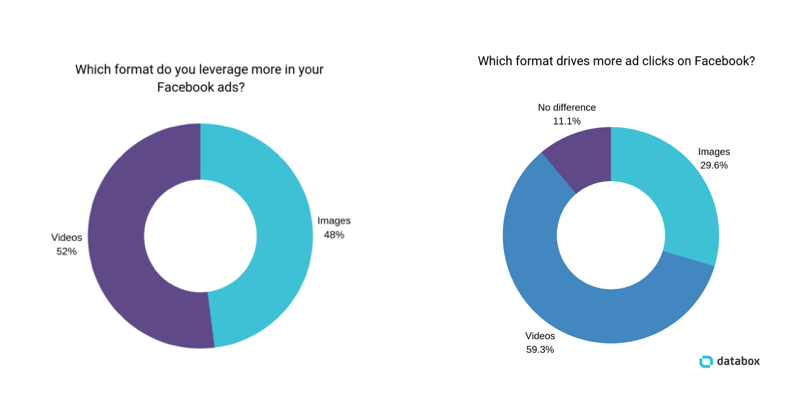 93% of brands got a new customer because of a video on social media. (HubSpot, 2019)
58. Instagram Story Videos
Instagram stories gives you a 15-second chance to publish daily, creative content to share what your company is working on or any other engaging topics.
59. Social Ad Videos
Most social media platforms allow you to create video ads to promote to viewers who are engaging with similar content. You can either re-use existing content or edit something new to attract new viewers.
60. Teaser Video
If you've been making a video series or video content that you're releasing on a consistent basis, consider making a teaser to share on social media to attract new or existing viewers.

61. Facebook Live
Facebook live lets you livestream any announcements, events, or Q&A's you might want to share with your current audience.
62. Stop Motion
Stop motion is a video style that pieces together pictures of objects that move ever-so-slightly between each one. Put together, and it produces animation. Albeit it is technically a style of video, stop motion offers a unique way to attract your social followers.
63. Kinetic Typography
This is literally a video of text that moves in animated ways. Think of lyric videos that have the written words floating around or sliding in and out, now think of how kinetic typography could be a chance to make a fun social video to set your content apart from others!
64. Cinemagraph
Cinemagraphs are just a photo that contains one aspect in motion. Think of a photo of someone smiling at the beach, but the waves behind them are moving. Although it might sound complex, there are accessible apps that provide this feature in seconds.
65. Photo slideshow
Technically, photos in motion make a video and so a slideshow consisting of a compilation of a specific topic can be pretty effective! If you only have a sequence of photos, consider stitching them together and posting a slideshow on your feed.
66. Drone
Drone footage adds an extremely dynamic angle to any video. If you have access to a drone or aerial footage, its engaging visuals will likely make your post stand apart from the rest.
67. Time-Lapse
Time-lapse videos are now more accessible than ever before. The more recent iPhone models, and some Android, have it built in as a filming feature so, in most cases, this kind of video is literally at your fingertips! Time-lapses are especially useful to showcase the time and effort spent on a physical project like a home remodel or building of any kind.
68. Facebook Cover Video
Many social media platforms are adding new ways to implement video into the experience. Facebook lets you add a video cover photo which gives you and your team one more video chance to make your page memorable.
69. YouTube Trailer
The Youtube trailer video is just another more recent opportunity to spruce up your YouTube page. In this video, you'll usually want to discuss the kind of content visitors can expect to see if your YouTube videos.
70. Update Videos
Your followers will want to know the latest and greatest taking place at your company. Create quick update videos to keep them engaged and in the loop.
71. Hack Video
Have some hacks you think might be interesting for your followers to learn? Bring out the camera and start putting together a series of hack videos to show you're the master at your craft!
72. LinkedIn Live
LinkedIn Live provides all the same benefits as Facebook Live but it is a bit more exclusive. You have to separately apply to be eligible to use LinkedIn Live for your business, but once you're in it's definitely worth using to engage with your audience.
73. Instagram TV (IGTV)
IGTV has been growing substantially as a new platform for content creators to release new long-form content. it's the only long-form video option on Instagram and resides within the official Instagram app. You can share a short clip on your Instagram page with a link to view the full video in IGTV.
74. Google My Business Video Posts
Google My Business is another helpful tool to be in control of how your business appears on Google's search engine results pages. Include a video to add to the legitimacy and initial impression of your company.
75. Blooper Video
Video is never free of a few mistakes. Stitch together some of your funniest hiccups to provide some laughs on your social feed.
76. Montage
Create a montage of different video clips from an event or presentation as a highlight video to show on your social media.
77. Prove/Disprove Something
Have a few topics that can make for some entertaining prove/disprove videos? Settling debated topics in quick social videos can create some valuable doses of information for your audience.
78. Quick List
Think of some lists you can make that could provide more value to your followers. "Top 10 ways to ____," "Top 5 tools you can use to ______." The possibilities are endless.
79. Versus/Comparison videos
Explore some competitive topics surrounding your industry. Do you see that your prospects find themselves asking "this or that" for certain items like software or tactics? Make a few comparison videos to set the record straight!
80. Public Poll
Get your followers involved by conducting a public poll and creating a video with the results! It's an easy way to include them in some of the smaller or more fun decisions you're looking to make with your team and company.
81. Reaction Videos
These videos are always entertaining as they show off a genuine reaction to a finished product or service. Think of it as a micro-testimonial opportunity to share on your feed.
82. Promo Video
Want to create some buzz for an upcoming announcement, service, or long-form video? Create a promo video to start the engagement earlier.
---
Brand Affinity Marketing Video Ideas / Long Term Strategy
Building a genuine connection with your audience is the core of brand affinity and there's no better way to do that than through video. Here are some videos you can make to help personalize your brand and connect with your audience with consistent, engaging content.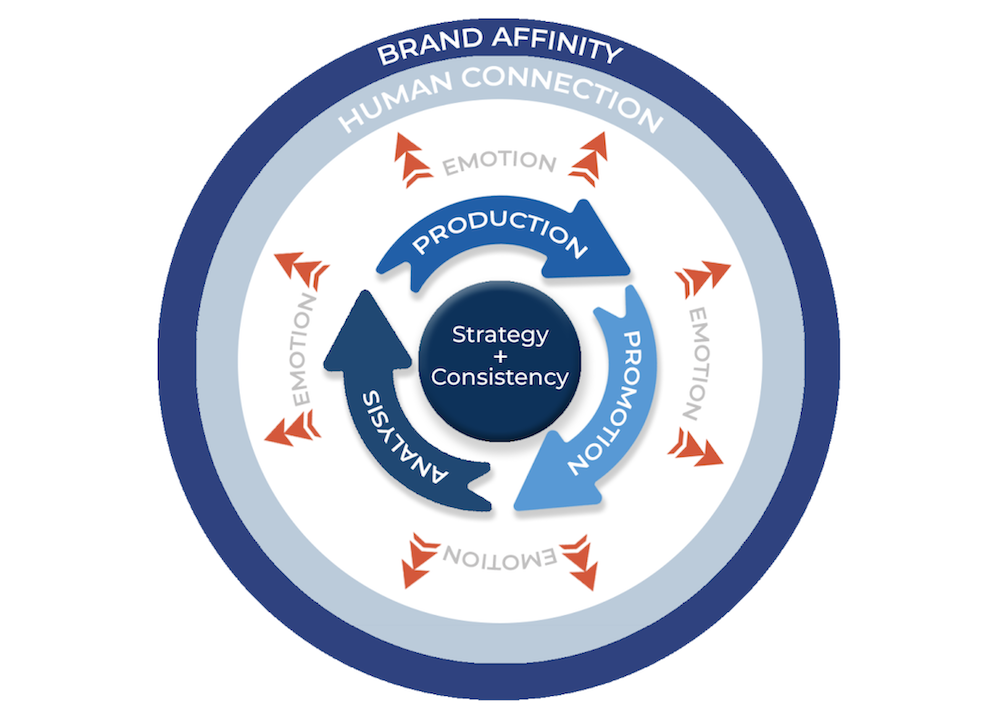 43% of survey respondents say that branded video is the most memorable type of content shared by companies. (HubSpot, 2020)
83. Episodic Videos
Episodic content is the best way to start engaging your target audience in a consistent way to build your brand affinity. It's also an excellent content generator. If you do begin to create episodic content, think of all of the social videos or teasers that can also come of it.
84. Interview-Style Videos
Interview-style is one of the most popular video formats you'll see—especially when it comes to episodic content. Getting perspective and insights from a guest is always going to make for interesting and informative content.
85. Channel Intro
If you have a video channel or gallery in the works, make a channel intro video to set up clear expectations for the video content you'll be sharing in your series.
86. Behind The Scenes Video
Behind the scenes (BTS) videos are a fun way to show what's going on behind the camera. Make a video showing some love for your team as they put together the episodic content you've been publishing thus far! This can also be a great teaser for what's to come in your series.
87. Q&A With a Host
If your series has a host, make a video to create some extra buzz asking them either anticipated questions or ask your followers for questions to ask to include them in the process.
88. Chalkboard/Whiteboard Video
Chalkboard videos are simple videos with images and narration. This can be an animation or you standing in front of a "whiteboard" with images or words written on it. These videos can offer a really clean way to express an idea or concept in a creatively animated way. This is another format that's available through different online apps.
89. Brand Building Videos
Once you start defining your micro-audience and exploring topics that will attract them, start thinking of one-off videos that can continue feeding that brand connection you're building with them.
90. Longform Video
Although shorter videos (usually anywhere from the 1-3 minutes) are great for quick engaging videos, sometimes you need more time to tell a story or get a point across. Don't be afraid to produce longer content if it means providing more value for your viewers.
91. Documentary-Style
As mentioned above, don't be afraid to make longer content. Documentary-style videos give a personal inside look at an event, a person, a story, or more.
92. Brand Story Video/Company Story
A brand story or company story video can go a long way with your audience. This is the type of video that you'd also likely place on your website to create an initial impression with new visitors. Tell them what you're all about and what value points you offer while keeping your personality into the mix.
93. Talk Show
The talk show format is another very popular setup for episodic series. This really depends on how much you want to commit to the talk show formula but, if you're going to go all out, consider entertaining segments to include in your episodes to break up the talk show interview portions.
94. Informational
Informational video content is usually one of the first places you'll start out. Always go back to the "why" of your videos. Why would this video be helpful for your brand audience? Use this question to narrow down the details to make the videos as effective as possible.
95. Location-Based
Settings can make the premise of your videos just as much as the content can. If your location provides some interesting value to your episode or one-off video for your audience- make sure to cover all of the highlights.
96. Product Showcase
Have a new product or want to shed light on an existing one? Make a few videos to show off its features. Think of it like a commercial where you can emphasize its strengths, describes its uses, and show it in action to prove its value to potential customers.
97. Competition
Set up a friendly competition either internally or with a competitor to spark up more buzz around your brand.
98. How-To/Tutorial
Tutorial videos can make for great episodes to either showcase how well your company knows its products or relative brand content.
99. Storytelling/Scripted
More times than not, episodic content will be scripted or at the very least outlined to keep a story moving at the necessary pace. A strictly scripted video keeps you on track and makes sure you get the point across. It can also be a good way to produce a story-driven video.
100. Comedy/Quirky
Even when making episodic content for your business, it can help to lean into some lighter or funnier content to make your show stand out amongst possibly more streamlined and mundane series.
101. Unboxing
This is a fairly popular premise we've been noticing amongst the marketing and tech community because it sets clear expectations for unboxing and reviewing new products. If this is applicable to your company or brand it might be an interesting concept to explore.
102. Live Web Series
Do you have an idea that you could host videos for on a weekly or monthly basis? Consider hosting a live web series that allows your micro audience to be more interactive.
103. Video Podcast
Podcasting is the newest and fastest-growing media platform. If you're starting to dabble into this, start making videos of your podcast recordings to embed on your site or social media for extra exposure.
104. AI-Generated Video
There's still a lot of room for improvement in terms of the quality and authenticity of AI-generated videos. As AI technology continues to advance, it's possible that the gap between human-created and AI-generated videos will narrow, but for now, the human element remains an essential part of the video production process.
Related Article: 5 Reasons to Increase Video Content in 2023 with The Rise of AI-Generated Content
---
Take your video marketing to the next level
Need some additional support with your video efforts? We're here to help.