Creating Your Company's First Video Series

In a world that is more connected than ever, word-of-mouth has become the most effective form of advertising. Brand Affinity is the level of trust between the consumer and a business. It's a connection between a brand and a person built through time and through high-quality content that connects at an emotional level.

Worrying about what to write your next blog about? Trying to find new ways to contribute to your brand and showcase your company culture? Wondering why you can't stop thinking about what happens next in that Netflix show you've been binge-watching every night? The answer is Episodic Video Content.
Using Episodic Video to Fuel Brand Affinity Marketing
Coffee Talks with Phil Nottingham from Wistia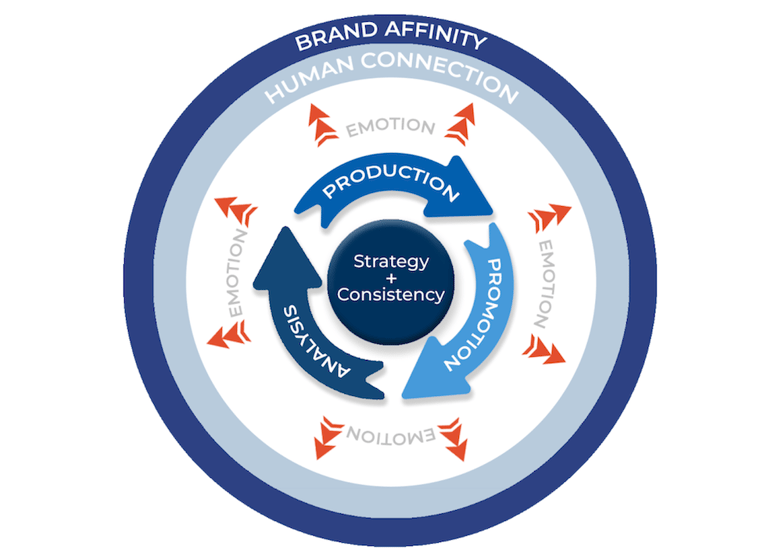 Companies across the globe are racing to produce as much content as possible. In the wake of this content flood, it's becoming harder and harder to have stand-alone blogs and videos grab the attention of designated audiences. Single designed-for-digest videos aren't sticking as much as they used to, and even more detrimental, they aren't giving viewers a reason to come back to your site for more. Instead, businesses are looking to invest in a long-term video strategy to build a stronger connection with viewers. This is where episodic content and brand affinity marketing comes in.
Case Study: Close More Customers With Video and Conversational Marketing


Building Brand Affinity With Episodic Content
By creating a consistent series of videos and using a theme or topic based on your viewer persona, you're not only giving viewers the chance to latch onto content they find personally entertaining but you're grabbing hold of a huge opportunity to build your brand recognition. Consistency is key for this process and will be the fundamental core for your series' success. Learn more about Brand Affinity Marketing on Wistia's latest playbook.

If you are already using video in your marketing strategy, then you likely recognize how powerful video is as a form of communication with your leads and/or clients. Creating a video series for your company will deepen that connection by providing another avenue for them to forge an emotional connection with your company and, in doing so, build trust in your brand versus your competitors.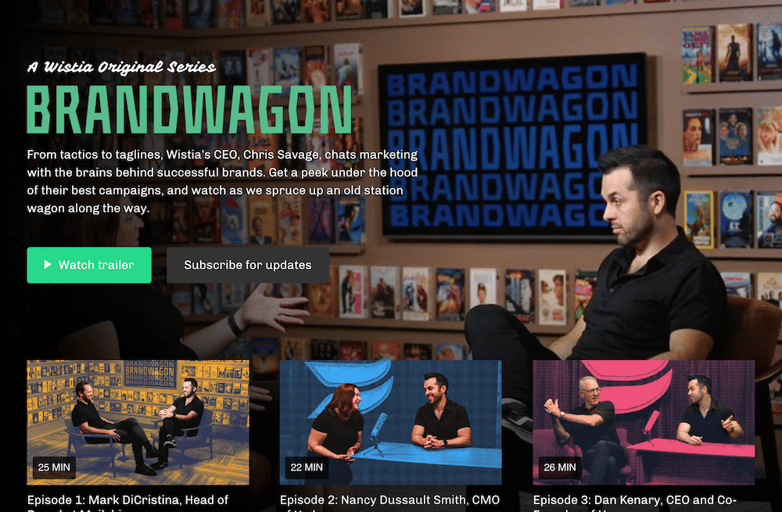 BRANDWAGON: From tactics to taglines, Wistia's CEO, Chris Savage, chats marketing with the brains behind successful brands.
"There's a story behind what you do; it's just a question of how you choose to tell it, and what part of it you choose to show."

- Michael Stelzner, Founder/CEO of Social Media Examiner (via the Casual Fridays Podcast)
It's vital that the content you produce will provide direct value to your viewers who are typically the same people you want to attract to your business. There is, of course, the option to construct a detached brand if you're looking to attract people outside of your business' regular audience. However, if you are looking to attract your business' same audience, we recommend creating a complementary brand instead. This was our approach to Season 1 of Coffee Talks which we have further tailored to complement the Nextiny brand in Season 2.

Our friends at Wistia took this same intentional approach when developing their new video series, Brandwagon:
"We recently did just that with the creation of our latest video series, Brandwagon. We saw such success last year with our docuseries, One, Ten, One Hundred, that we knew we wanted to keep investing in the creation of episodic video content. And something we did for One, Ten, One Hundred that we knew we'd wanted to repeat for Brandwagon was creating a sub-brand to go along with it!" - Wistia
Here at Nextiny, we originally tried our hand in the episodic game back in 2016; the conception year of our very own Coffee Talks. At its core, it had all of the qualities we wanted for a series, but it was difficult to organize topics and get everyone involved when the series itself didn't have a concrete foundation.

Coffee Talks was temporarily on the back burner as we pursued growing in video at our agency, but after being inspired by content like Wistia's One, Ten, One Hundred, Shopify's Shopify Studios, or Mailchimp's Mailchimp Presents we couldn't wait to work on our redemption series.



So we researched, we organized, and we structured. After creating a process that translated best for the entire team, we launched our first official season of Coffee Talks: A Nextiny Marketing Video Series.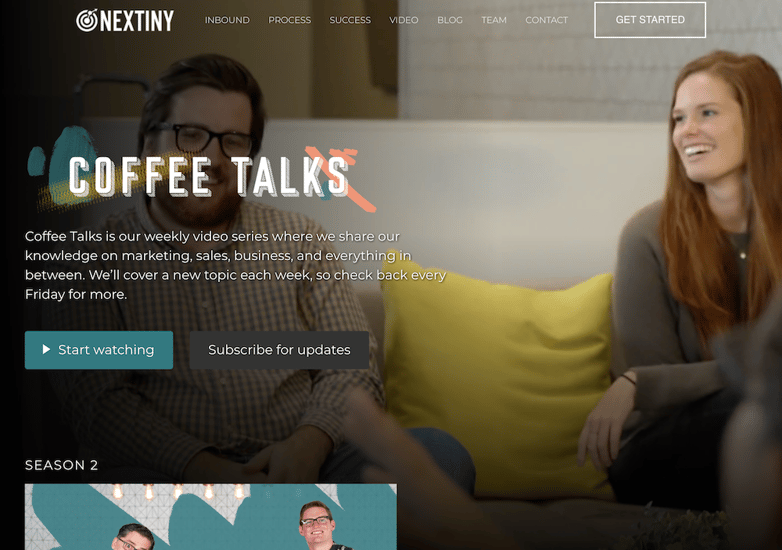 Coffee Talks Season 2 is Live!

So how did we do things differently this time around? Here's our story and how you can get started with Episodic Video Content:


Getting started with Episodic Content
Producing a first-time video for your business can be intimidating, so we understand the idea of creating a series can seem undoubtedly overwhelming. But with the right strategy and implementation, you can get started using this new format sooner than you think! Here are some steps you'll need to consider to produce a successful episodic video content strategy:
Select a theme or topic for your series
Define the episode concept (setting and tone)
Get the team involved
Consider branding and publishing
Arrange for video production and planning (from equipment to scheduling)
Generate additional content
Continuously promote


Selecting a Theme or Topic For Your Series
When selecting a theme or topic for your episodic video series, you'll want to keep in mind that the content should be linked in some way. Thinking episodically is thinking like a long-form storyteller. It can be as simple as a formulated talk show or as jarring as a documentary-style look into the lives of your customers. Define who your ideal viewer is and the journey this content could provide for them. Once you've established what the intent and concept of the series are, you'll be able to map out linkable content and move forward in your production process.

Whether it's showcasing more about your services or discussing relevant topics in your industry, make sure to set clear expectations for your viewers so they get excited for each new episode. Create custom posts for your social media platforms to generate some buzz around your upcoming series and let your audience know what they'll be learning about. Although this could build some positive anticipation around your upcoming content, it will be the execution and consistency of the series that will truly build trust and validation in the relationship with your audience.


Ideas for topics:
Remember that a video series is not necessarily intended to sell or promote your products and services. If you create a video show that provides value, educates, inspires or entertains, this will help you create an emotional connection with your audience. The idea is to create something that people would want to watch on their free time, engaging and without directly selling. Mailchimp's Mailchimp Presents is a perfect example of this. They quickly realized the power of investing in videos, podcasts, and above all: stories. You can connect the value of the video with the main questions your sales people or customer service representatives get on a regular basis. If you create this alignment between the content on the series and your internal teams, you increase the probability of these videos being shared by everybody internally and the impact they will have.
"One thing is that great storytelling travels,"DiCristina from Mailchimp Pressents said. "The best stuff tends to rise to the top, and we obviously experienced that with Serial and other podcasts we've sponsored over the years. We've always been really supportive of and attracted to the types of stories that are resonant."
You could begin your series with a sales-focused approach. If you're in a creative block while trying to come up with topics, talk to your sales team. If you're trying to figure out what would make for good content that directly impacts your business' ideal viewers, create a list of questions your sales team gets frequently asked by existing or prospective clients. Chances are, an answer for your content block lies in that list! The series itself can become a sales engine for your company.
Define the Episode Concept (Setting and Tone)
So, now you know which topics you want to cover in your series, but do you know how you want them conveyed to your audience? For Coffee Talks, we knew we wanted to keep a conversational element so that the message didn't feel forced, so we decided on a more informal two-person setup because we were attracted to the simplicity of having two people dive into a given topic. At this point of the creative process, collaborate with your team to explore these questions and establish what tone fits best with the intention of your series.

When considering one or more settings for your episodes, keep in mind that you'll ideally want the following to ensure efficient shooting:
Setting in a quiet area
Flexible decor (items that can be moved such as furniture or wall art)
Controllable lights (ex: no overhead lights casting unwanted shadows.)
Availability of setting
Neutral design (plain white space? No problem! Add props to build your frame as desired)

A conversational and formulaic video series might require one isolated setting while a more complex series might require several. In either case, planning out the video will be imperative to making sure you don't forget to book a location or request proper access in advance. For each of your videos, especially ones involving multiple locations, you and your team should go one-by-one, discussing the entire episode and then make an action list to solidify any missing pieces. If you don't have a well-thought-out plan, you'll be playing catch up instead of designating more time to the execution phase of your series' strategy. Consistency is key but planning is the latch.


Getting the Team Involved
For Coffee Talks "2.0," we knew off the bat that we wanted to have everyone in our team involved. As experts in inbound marketing and with each person's respective creative realm, we wanted the topics of each episode to be paired with the people who are closely involved with them. This is something that we practice even in our client videos. Who better to discuss what you do than you?

At a marketing agency, setting aside time to invest in your own engagement efforts can fall through the cracks because a majority of your time is spent helping your clients' businesses grow. When getting started with episodic content, it's important to not only get your team involved, but also to get them excited. Outside of initial creative brainstorming, we had a few group meetings to determine which scheduling structure would work best for everyone and then we made sure to keep those scheduled times sacred.


Video Branding and Publishing
It's important to view your videos series as its own brand. We all know what that first exciting step is when starting a new brand: picking a name! If you're taking the sub-brand route, look for something that complements your business name or goals. Maybe a play on words or something that's less direct to avoid pigeon-holing yourself. This really depends on the content. Once you have one that you feel encompasses your series well, it's time to dive into additional creative assets for your series. Create a logo and select your brand colors and fonts. Also, depending on the platform you plan to use to publish your series, create custom thumbnails for your episodes to further build the consistency component for your brand recognition.





Where Will the Video Series Live?
You'll want to have the intentional home for your series selected before you begin filming as it can affect the way you shoot or render your episodes. Make sure the platform you choose will be able to support your video's resolution. For example, if you're planning to post episodes on Facebook or Instagram, keep in mind that resolution will be hindered for videos over 720p so you may want to render your videos at a lower resolution so you don't get a glitchy effect or a lagged playback.

We like to think the video gods were watching over us as we began production for our series back in late March because our friends over at Wistia had just released their latest feature: Channels. Wistia Channels was the perfect platform for us to showcase our episodes. It provides a great user-experience and a clean way to show all of your awesome video content. By embedding the channel into you website, you can add lead generating tools like chatbots to help get new subscribers or gather feedback for future content. Check it out for yourself!

Coffee Talks: A Nextiny Marketing Video Series

Pro Tip: Despite which video hosting platforms you may be using to post your videos, we highly recommend also publishing your series onto YouTube. YouTube is the second largest search engine just under its parent company, Google, and it's the #1 online video search engine. We initially wanted to post teasers to bring people back to our Wistia Channel, but as we began this process we discovered a scuff in this plan: YouTube is designed to keep its viewers on YouTube. How many times have you lost yourself in a rabbit hole of Youtube videos, starting with "How to fix a sink pipe?" and ending on "Dog rescuing puppy from oncoming traffic!" ? Furthermore, how many times have you left those videos to learn about that host's native website? Typically, the answer to this is none. So, whether you have a large and faithful following or if you're just starting out, we believe it's best practice to post your episodes on YouTube. From there, you can analyze what's working and what's not, using YouTube Analytics and change the strategy as needed. In the end, we believe it's important to have at least some exposure on this prominent platform.

Related Article: Learn how to optimize your YouTube channel
Social media outlets are constantly evolving and its important to stay up to date with the latest and greatest ways to get your content seen amongst your peers! One particular platform that has been rising in activity is IGTV. This was an incredible addition to Instagram's artillery and it's a great place to place videos that go over the dreaded one minute mark! Because it is still relatively new, a lot of companies are not yet taking advantage of this excellent piece of video real estate. Give your series an additional podium with IGTV or post some behind the scenes footage to help promote your episodes!


Video Production and Planning
If you're working in a company with "a lot of moving pieces," there's a strong chance you're using project management software to help keep your process efficient. At Nextiny, we started using Monday.com and we have to say, it's been an incredible organizational tool for us. It became a revolutionary approach to organizing all of the pieces involved in producing Coffee Talks.

We created an organizational board specifically dedicated to Coffee Talks. When you're organizing your episodes you want to make sure you're covering these main elements:
Episode Title (Make sure to keep consistent how you label all of your episodes! Ex. 101, 102 vs Ep. 1, Ep. 2)
Episode Notes/Script
Shoot Date
Video Talent
Video Editor(s)
Production Status
Episode Post Date
A link to the finished video
Equipment
As you approach the filming portion of your video series process, it's time to start thinking about what equipment you'll need. Depending on the space you'll be working with and the number of subjects you'll have in each episode, your equipment needs will vary. If you're just getting started, you'll need the bare essentials:


Related Article: What's in Your Camera Bag?
Camera (s)
For a static setting, we highly recommend a minimum 2-angle setup so that you can have one camera set to a wide shot of the entire scene and one camera set to a close-up of the individual speaking.

Tripods
If you have more than one person in the episode, you'll want to make sure the close-up angle camera is set up on a tripod with a swivel head. If you're shooting outdoors, make sure your tripod can withstand the wind!

Lighting
We recommend the classic 3-light setup: 1 key light, 1 fill light, and one back or "hair" light. This will vary depending on the number of subjects and the space you're in.

Microphones
We recommend either a lavalier mic for each subject or an On-Camera mic. Personally, we use the lav mics to help fight off mundane sounds that may be picked up on the cameras' built-in mics such as A/C or miscellaneous outside noises
Additional Recommendations:
External Monitor: This can be a helpful tool to ensure you have everything in-focus and framed correctly after setup
Tape: This is especially useful if you're shooting in the same spot for each episode. Mark where furniture or equipment should be placed; this will eliminate the guesswork from your setup


Shooting Process
When it came to our first shoot date, we shot about five episodes in one day. This gave us the advantage of being able to edit our first few episodes while simultaneously creating video teasers for each episode, writing blogs to elaborate on the content, and planning the next shoot dates. Before we knew it, we were setting the first episode live while already working on mid-season content.


Generating Content From Your Video Series
While some marketers are scrambling and searching for ways to take on the beastly "Content Problem," thought leaders are recognizing that one of the most valuable avenues episodic content has to offer is acting as a content generator. Why stop at just creating episodes? You can create accompanying blogs, social posts, podcasts, and teasers to keep the momentum going and continue increasing your rankings in the long-enduring battle of video SEO.



Social media has especially seen an increase of video series filling feeds across the board.
"Social strategists, brands and marketers alike have been groomed for years to encourage the production of short, snackable pieces of video content for a seamless in-feed experience. It's been a rule of thumb that shorter videos perform better compared with longer ones (for most metrics), and we're slowly witnessing platforms expand this rule." - Adweek
This additional content inevitably evolved our Coffee Talks Monday board by adding pulses such as Blog post date, Teaser post date, Social post date, etc. This way, all things Coffee Talks lived in one place. As a result, we posted our content in the following sequence: the episode, teaser, and blog went live every Friday; on Mondays we promoted the blog from the previous week; on Wednesdays we promoted the series and then with Friday came the new episode and next round of promotions. This laid out the opportunity to periodically review the effects in traffic these posts had and to analyze how effective they were.


Turn Your Episodic Series Into a Podcast

Once you've created your episodes, you now have your edited sound bits that you can detach from the videos to make podcast episodes. Isabella and Aaron, from our video team, sat down to record some new introductions for the episodes to match the standard podcast format. Although it is smaller than the video market, podcasts make for an incredibly effective way to communicate with interested listeners.
"Podcasts also have the potential to foster loyal fan-bases of like-minded listeners. Over time, your listeners may turn into subscribers who are eager for new episodes or even exclusive, behind the scenes content. Best case scenario? They share their enthusiasm about your content with their friends, family, and people in their network." - Lisa Marinelli, Wistia




Reviewing and Optimizing Your Video Series

Even after shooting our first few episodes, we immediately took note of small changes that could help make our process more efficient. Our first few episodes were a bit lengthy and so we added some animated text, graphics, and B-Roll to help drive the content.

There are several key metrics you can use to review your series' performance. Using Wistia analytics to dissect each episode, we were able to measure engagement and space for opportunities to improve the episodes. After seeing that some of our longer videos weren't retaining viewers as long as our shorter ones were, we went back into the editing room to shorten them to see if it would help increase overall engagement. This is just one example of how video metrics can help you determine optimization opportunities for your episodes.

Here are some key metrics you should analyze when reviewing your video series:
Hours Watched
Video Plays (number of times your video was loaded and played on your site)
Engagement (percentage showing how long the viewer was watching before dropping off or leaving page)
Subscribers/Leads
Social Statistics (if you've posted your episodes and teasers onto your social media outlets, make sure to keep an eye on their stats as well. If you're using Wistia, you can review social statistics if you posted directly from the platform.
SEO (time on site, organic traffic, social shares, keywords in transcript)



Hours Watched / Wistia + YouTube // Brand Engagement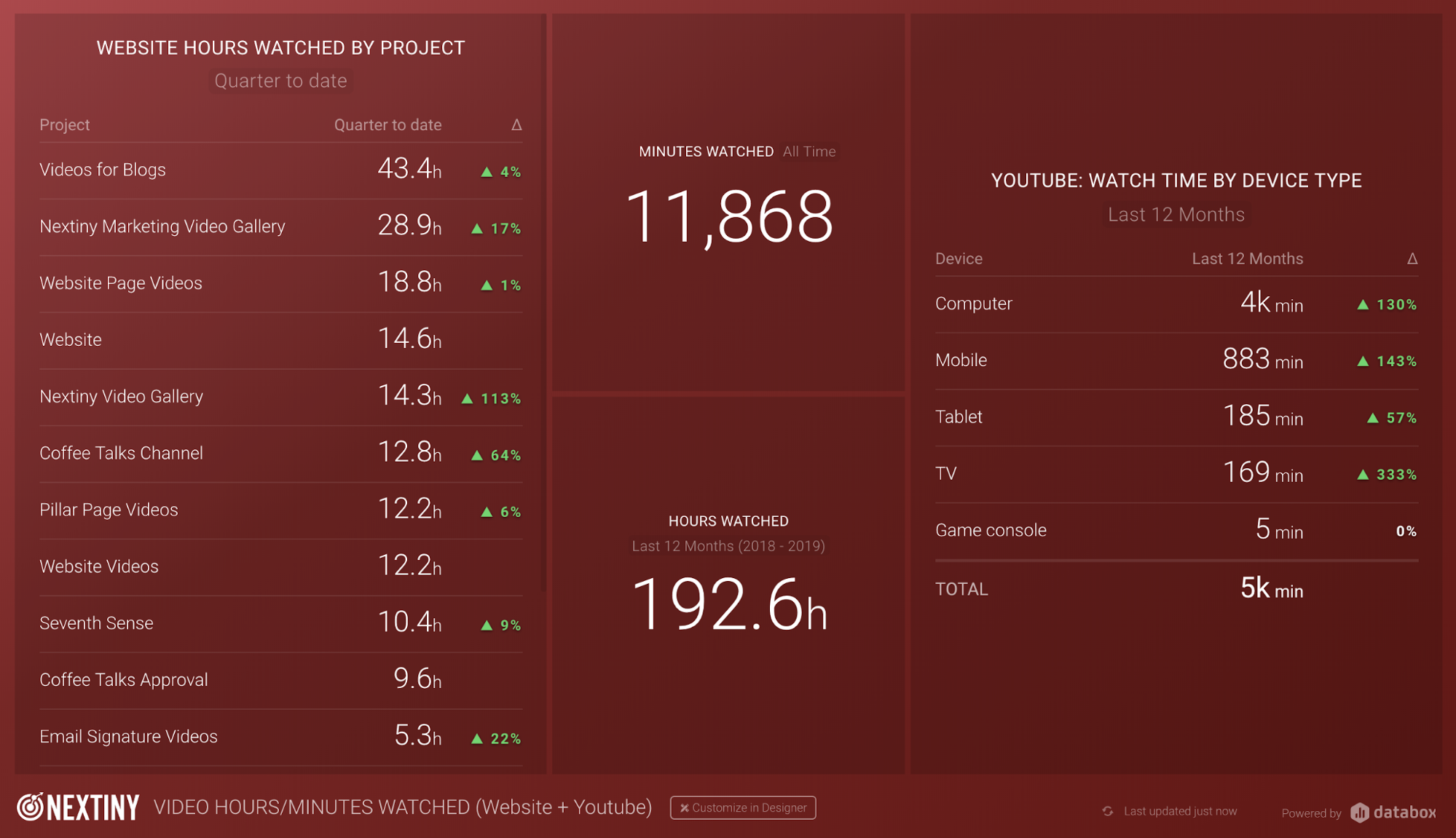 Video Impact on Lead Generation & Customer Acquisition

Domino Effect: New Traffic Bringing Old Posts Back to Life
As we reviewed our episodes' analytics, we noticed a few interesting patterns forming. First, we saw that this consistent content began contributing to a traffic increase in some of our older content. Earlier Coffee Talk episodes and blogs would begin to gain extra views weeks after they went live, no doubt in partial thanks to the Wistia Channels format that prompts users to watch the previous episode at the end of each one.


Promotions
If you've come this far, then we'd like to stop right here and say congratulations! You've produced your first video series. But as you know, video production and strategy is only half the battle here. Now it's time to begin your post-production promotions.
Tacking onto the weekly promotions we mentioned before, we have continued to promote Coffee Talk teasers weekly. This includes new promotional videos, finding new places to link our Coffee Talk blogs, creating new social posts, and now our very own podcast! Create emails for viewers or potential viewers to catch-up on what they've missed or to inform them of what's to come. From analyzing these weekly postings, we were able to learn which days were best for engagement.


Take a look at your episodic content and at your company's previous content. Is there any place you can use as a spot to repurpose this new content? Maybe an old blog or a page on your website? Establishing as much native exposure as possible for your video series will be an invaluable part of this promotional process.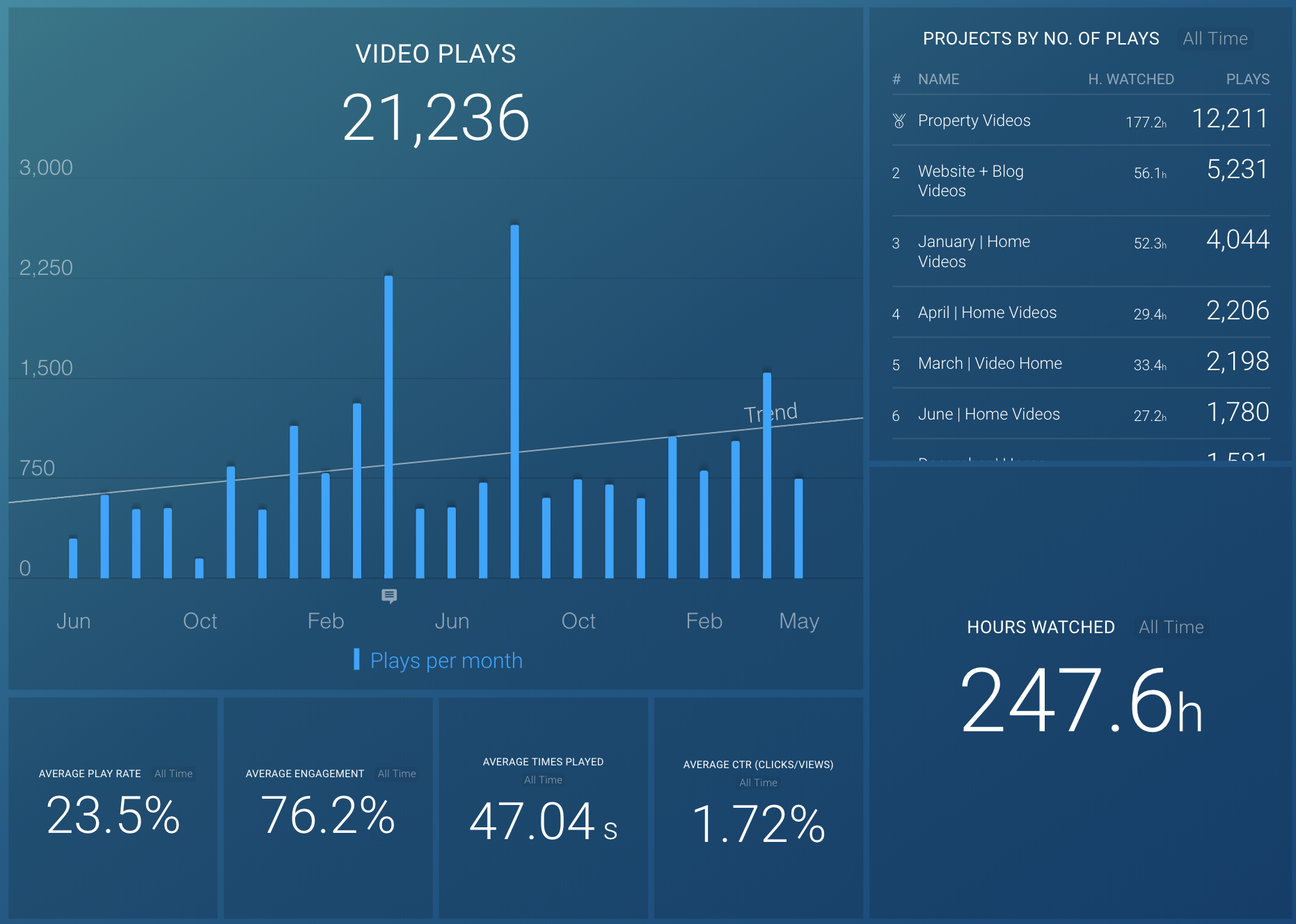 Something important to keep in mind when you're reviewing your video series analytics is that this shouldn't be judged like your typical video content. You've produced a series with the intent of evoking an emotional connection with your viewers that will, hopefully, leave them wanting to watch more. Episodic content is not a quick win, it's a long-haul investment in your own brand. So what are you waiting for? Get started creating your video series today.


Starting a Video Series Checklist
How to get started with episodic video series
Intent: what is the purpose of this content? Where will it live? Is it something that can become episodic content or it best for a shorter medium?
Scene and style: Determining what kind of video it will be: Informative, interview style, 2-person conversation, documentary style, etc + personality of the shoot: quirky, quick cuts, a more formal Q&A, etc.
Equipment needed: Cameras, Lighting, Mics
Selecting your props. In our case, chairs and coffee mugs
Creating an organized schedule for shooting, editing, blogging, social, etc. (we use Monday.com)
Selecting the topics with your team: Internal meeting, idea boards
Selecting the participants (who will be the best subjects to speak on these topics?)
Shooting multiple episodes at once, if possible, to best utilize time
Back up your footage and begin the editing process
Creative Assets: Create a series intro + select music (we played around with different ideas and theme songs for our intro until we landed on one we loved!)
Edit one episode fully and review with your team for any constructive feedback to apply to future episodes
After approval is complete, submit the content to your writer to create a blog based on the video
Create additional content to help promote: blogs, social, podcast
Schedule video posting, blog and social posts
Review and optimize results based on performance of live videos to apply optimizations to future videos