Inbound Sales is a philosophy that transforms sales to match the way people buy. The Internet changed the buyer-seller relationship. The power has shifted from the seller to the buyer.

Therefore:
What is the Inbound Sales Methodology?
Build a Sales Process that Supports the Buyer's Journey:
Identify strangers who may have goals or challenges you can help with. These strangers become leads.
Connect with leads to help them decide whether to prioritize goals or challenges. If a buyer decides to prioritize goals or challenges, leads become qualified leads.
Explore the goals or challenges with qualified leads to assess whether your offering is a good fit for their context. If so, qualified leads become opportunities.
Advise these opportunities in ways in which their solution is uniquely positioned to address buyer's context. If what you are offering is best for them, opportunities become customers.


What can sales enablement do for your team?
Allows your sales team to better take advantage of marketing leads
Leads to an increase in revenue through the alignment of marketing and sales
Provides processes, practices, technologies, and tools to improve the performance and productivity of your sales organization.
Processes / Practices / Technologies / Tools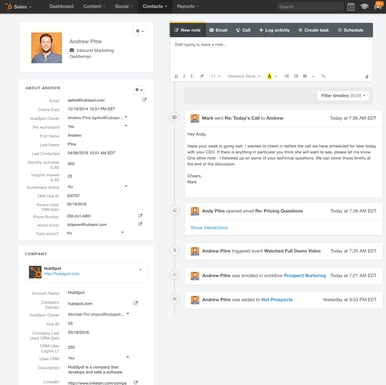 Inbound Sales Tools
HubSpot CRM
This free tool allows you to:
Track all of your sales interactions in one place
Save time through automation features
Analyze the full sales funnel and current deals in real time
Increase organization and productivity
Close the Loop between marketing and sales
HubSpot Sales Pro
This tool allows you and your team to have greater lead insight than ever before.
Send more effective emails and manage sales documents
Find interested prospects who are visiting your website
Manage your calendar automatically with preset meeting times
Establish relevant connections with your prospects
Integrate your email inbox with your CRM to save time and get automatic notifications